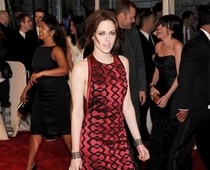 A new Breaking Dawn trailer has been released for the upcoming film in the Twilight series. Well, sort of. Yes it's fan made, but I wouldn't be bringing it to your attention if I didn't think it was worthwhile- it's highly professional, includes recently released stills from the film, and the music is, well, to die for.
The debut of the first official Breaking Dawn trailer is expected to be during the 2011 MTV Movie Awards in June, but it is also likely to be leaked to the internet before that happens. Even if it isn't leaked, someone on the East Coast will likely drop a version of it before the West Coast viewers get to see it presented.
So have a look at Bella and Edward and Jacob and let us know your thoughts on how the trailer ranks in the annals of Twilighter fan trailers...
References
Source: Examiner.com