Comments

34
What Will Bella's Wedding Dress Look Like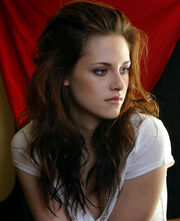 Modern or Victorian? Train? Lace? What will the most important costume of Breaking Dawn look like?
Kristen Stewart
revealed that she has already had a fitting for Bella's iconic dress!
"I haven't put the one on yet," she said.
Stewart expanded on picking the "right one" saying, "To be honest, it's such a big deal. It's such a big decision. I have a little hand in having a decision — or having an opinion more — but I think it's pretty much up to Stephenie," Stewart said, referring to "Twilight" author Stephenie Meyer.
"I'm not quite sure exactly what it's going to look like, but it will be beautiful, I'm sure," she added.
What do you want the iconic dress to look like?