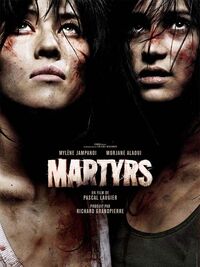 It looks like the producers of Twilight have picked up a new film, the grisly French film Martyr. I hope they realize that producers don't suffer from the same stereotypes as actors. They do NOT need to pull a Lindsay Lohan, ie. portray a stripper to seem edge.
Daniel Stramm, the director of The Last Exorcism, has also signed on to direct the remake. Stramm says of the American version, "Martyrs is very nihilistic…The American approach [that I'm looking at] would go through all that darkness but then give a glimmer of hope. You don't have to shoot yourself when it's over."
The original film is about a tormented young woman's search for the people who kidnapped and tortured her as a child. Her obsession leads her and her friend on a terrifying journey into a living hell of depravity.
Just a warning to all Twihards. The original film is not for the faint of heart. The bad guys aren't sparkly and there is no romance. Just lots of gore... Will you watch the remake? Or the original for that matter?
Ad blocker interference detected!
Wikia is a free-to-use site that makes money from advertising. We have a modified experience for viewers using ad blockers

Wikia is not accessible if you've made further modifications. Remove the custom ad blocker rule(s) and the page will load as expected.