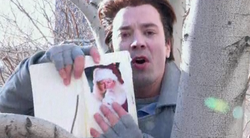 "Holidays bother me. Shopping bothers me. Christmas shopping bothers me. Christmas shopping is stupid!"
Robert Pattinson
is really Bothered! See why he hates Christmas as well as the iPad and his own film,
New Moon
!
"So let me get this straight," he says. "I'm supposed to wake up at 5:30 in the morning, drive 20 minutes to a mall just to spend two hours trying to find a parking spot, to buy a present I can't afford, for people I don't like?!"
Check out what else bothers Robert Pattinson!
Ad blocker interference detected!
Wikia is a free-to-use site that makes money from advertising. We have a modified experience for viewers using ad blockers

Wikia is not accessible if you've made further modifications. Remove the custom ad blocker rule(s) and the page will load as expected.