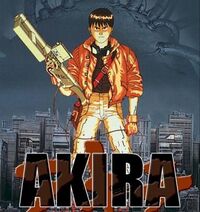 Robert Pattinson
is up against some major competition for his newest post-
Twilight
role, as Tetsuo in the big budget adaptation of the graphic novel Akira! Also being considered for the role are Andrew Garfield, who you might recognize from the new images from The Amazing Spider-Man, and James McAvoy who is portraying a young Professor Charles Xavier in X-Men: First Class.
And who will star opposite Tetsuo, you ask? Chris Pine, Justin Timberlake and Joaquin Phoenix are all being considered for the opposing role of Kaneda, the leader of a biker gang who tries to save Tetsuo from a medical experiment.
Akira is set in a post-apocalyptic Neo-Tokyo and uses many of the conventions of the cyberpunk genre. It is a manga series by Katsuhiro Otomo and it was one of the first manga works to be translated into English in its entirety.
Ad blocker interference detected!
Wikia is a free-to-use site that makes money from advertising. We have a modified experience for viewers using ad blockers

Wikia is not accessible if you've made further modifications. Remove the custom ad blocker rule(s) and the page will load as expected.