"It's funny, the whole thing with Rob [Pattinson], because everyone keeps trying to build up this weird rivalry between Twilight and Potter and it's not really happening because Robert's in both," Daniel Radcliffe tells E! News.

In fact, Radcliffe couldn't be happier for the sparkly one's rise to superstardom.

"It's amazing to see someone you worked with ages ago then go off and do so well," he says. "It's fantastic." There you have it Twihards...there is no Potter/Twilight rivalry! Do you believe him? Do you care?
---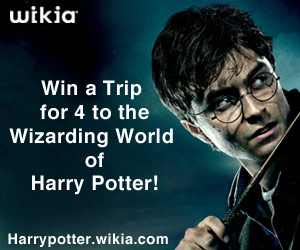 If you love both Harry Potter and Twilight, be sure to check out Wikia's Wizarding World Giveaway for a chance to win an all expense paid trip for 4 to the Wizarding World at the Universal Orlando Resort. All you have to do is create an account and leave a comment on the contest page! Tell us what you would do if you could spend one day at Hogwarts!
Ad blocker interference detected!
Wikia is a free-to-use site that makes money from advertising. We have a modified experience for viewers using ad blockers

Wikia is not accessible if you've made further modifications. Remove the custom ad blocker rule(s) and the page will load as expected.