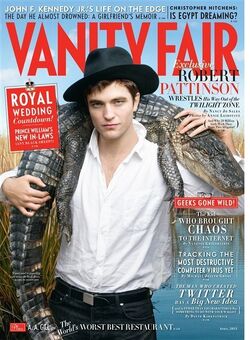 I have some bad news for you Robsten fans... Their love may not be strong enough for Hollywood!
Robert Pattinson revealed that all of the media attention has hurt his real-life romance with Kristen Stewart.
"It's just very traumatic," the 24-year-old Brit complains. "When this is over, the media will lose interest. There'll be nothing to say. It won't fit into a headline anymore. It won't fit into a template."
"There's nothing you can do about it. That's the way it is," Pattinson explains of his oppressive new stardom. "But it is weird being part of that, kind of representing something you don't particularly like. God, I just really head-butted it. This thing with everyone knowing you, it's weird, because people have this one-sided relationship where they look at your picture and feel they know you more than someone they actually know. I don't really know myself that well."
But that doesn't mean he isn't head over heals for Stewart!
"She's cool. Even before I knew her I thought she was a really good actress. Like, I saw Into the Wild, and I thought she was really good in that," he raves. "I still think there are very few girls in her class that are as good as she is. Kristen is very focused on being an actress. I mean, that's what she is -- she's an actress. Whereas I...I just don't really know."
In other Pattinson news, apparently he has a soft spot for Charlie Sheen.
"I like crazy people who don't give a f***," he explains, adding that he's a fan of the 45-year-old actor's "little escapades. I never change the channel in my trailer. I just watch reruns of House of Payne and Two and a Half Men. I love Cops -- I think it's my favorite TV show," he laughs. "God, I sound like such a loser."
Ad blocker interference detected!
Wikia is a free-to-use site that makes money from advertising. We have a modified experience for viewers using ad blockers

Wikia is not accessible if you've made further modifications. Remove the custom ad blocker rule(s) and the page will load as expected.