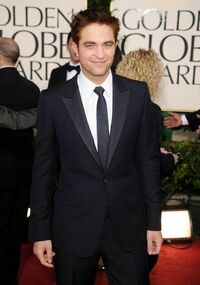 Robert Pattinson
revealed some hints about
Breaking Dawn
at the Golden Globes last night!
"It's like she wanted to do it the entire time," He told MTV of Kristen Stewart as a vampire. "It's a completely different environment on the set when she's a vampire and when she's not. I think she's going to do it really well."
Peter Facinelli also touched on the matter, saying, "She's doing really well. She looks fantastic . . . For some reason, once you put those contact lenses with the pale skin, you look very statuesque, and it's very beautiful."
When Rob was asked about how the filming was going he complained about the epic fight scene in the second half of Breaking Dawn. "There's like a 27-minute sequence for the final sequence, and it takes forever to shoot," Rob explained. "There's like 75 people in it. Oh my god. On a piece of fake snow, surrounded by green screen, for like a month. It's driving me absolutely insane."
Are you excited to see Stewart kick butt as a vamp? How about a 27 minute long epic fight scene?
thumb|300px|leftthumb|300px|right
Ad blocker interference detected!
Wikia is a free-to-use site that makes money from advertising. We have a modified experience for viewers using ad blockers

Wikia is not accessible if you've made further modifications. Remove the custom ad blocker rule(s) and the page will load as expected.