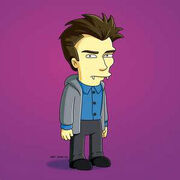 This Halloween, the Simpson family will fight a new terror in Springfield! It seems that little Lisa has a new suitor of the undead variety...

Daniel Radcliff of Harry Potter will voice the young vampire that falls for Springfield's lonely bookworm. Hugh Laurie of the hit show House, will also guest star in the annual Treehouse of Horror episode. Check out the strangely familiar photos for the upcoming Halloween spoof. Will you be watching?
Ad blocker interference detected!
Wikia is a free-to-use site that makes money from advertising. We have a modified experience for viewers using ad blockers

Wikia is not accessible if you've made further modifications. Remove the custom ad blocker rule(s) and the page will load as expected.