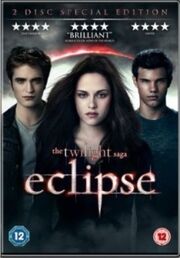 Have you ever wished you could read Twilight or watch the films and get credit for it in school? Well, here is your chance Twihards! The Twilight Series is the subject of a women's studies course at California State University, San Marcos. The course will focus on gender, race, sex, and relationship issues of the vampire novels and film series.
The class is making current students take a closer look at Bella and Edwards relationship. One student realized "Edward is a very dominant and abusive character, although you don't realize it right away."
Is this an appropriate course for a state college? Would you take it? Learn more about the course and students reactions to it HERE!
Ad blocker interference detected!
Wikia is a free-to-use site that makes money from advertising. We have a modified experience for viewers using ad blockers

Wikia is not accessible if you've made further modifications. Remove the custom ad blocker rule(s) and the page will load as expected.