Twilight star, Kristen Stewart, is rumored to be up for a role in "The Hunstman," the live-action version of Snow White. But many critics are doubting her ability to play such a sweet, upbeat character. She definitely evokes Snow White physically, "'lips red as the rose, hair black as ebony, skin white as snow' — I doubt she could be 'light-hearted enough' to be convincing," says Lindsay Mannering at The Stir. "I think of Snow White as a 'happy, smiley, innocent young woman.' Stewart just seems 'too angry.' Ellen Page (Juno), on the other hand, has both the acting chops and the right look."
What do you think twihards? Would you watch Stewart as Snow White? I know I'm in if Viggo Mortensen is cast as the huntsman!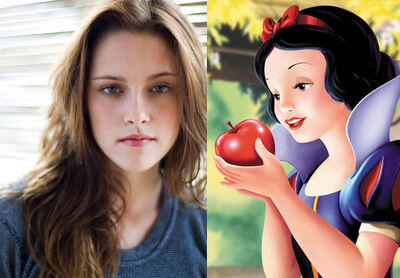 Ad blocker interference detected!
Wikia is a free-to-use site that makes money from advertising. We have a modified experience for viewers using ad blockers

Wikia is not accessible if you've made further modifications. Remove the custom ad blocker rule(s) and the page will load as expected.