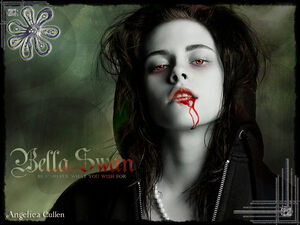 Kristen Stewart recently spoke about the upcoming Breaking Dawn (films) and said that she thinks her character, Bella Swan is the best vampire in all of the Twilight Saga. She gushed, "she's so different. She's the best vampire in the series. It just feels so right because It's so natural for her. It's so satisfying. There's definitely a lot of conflict. It's like everything comes to fruition,and you finally get what you've been begging for,basically."
What do you think Twihards? Is she the "Best Vampire" of the entire series? Who is your favorite?
Ad blocker interference detected!
Wikia is a free-to-use site that makes money from advertising. We have a modified experience for viewers using ad blockers

Wikia is not accessible if you've made further modifications. Remove the custom ad blocker rule(s) and the page will load as expected.