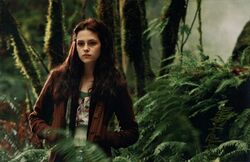 In an interview with the Vancouver Sun,
Eclipse
director
David Slade
admits, "there were tears" on the Twilight set, revealing
Kristen Stewart
's struggle to relate to her character
Bella Swan
.
"[Kristen] would say, 'I don't know who Bella is to me.' In a lot of ways, I think she felt Bella was the antithesis to her, which presented a lot of challenges for Kristen… She would beat herself up about it, because she wants to be there. She never wants to leave a scene undone"
"Kristen, in particular, was very tough on herself," David added. Noting that all actors can get insecure –especially when facing the rabid anticipation surrounding a series like Twilight. "Even in rehearsals with Rob, there was a similar spiraling that would happen," he said.
Did Stewart's hard work and anguish pay off? Is she the Bella you were hoping to see on the big screen?
Don't forget to enter to win your copy of Eclipse!
Ad blocker interference detected!
Wikia is a free-to-use site that makes money from advertising. We have a modified experience for viewers using ad blockers

Wikia is not accessible if you've made further modifications. Remove the custom ad blocker rule(s) and the page will load as expected.