Comments

0
Kellan Lutz: Tough Guy or Big Softie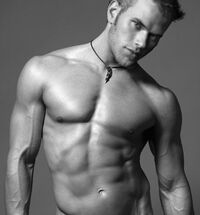 The stacked Twilight star isn't believable as a vulnerable character? Never, haha! The actor behind
Emmett Cullen
has trouble being seen as anything more than a tough guy...
"It's tough for me to play vulnerable, or be taken serious as vulnerable. People don't look at me that way. I'm a 6'1, 195-pound guy. In a studio movie, I audition and they're like: 'No, Kellan, can't play this thing at all."
Luckily, he has other options, "It's nice to find independents that you can have fun doing." Would you watch Lutz play a vulnerable character or do you think he should stick with what he knows? Make sure you check him out in his new flick, Meskada, where he plays a thief-turned-murderer!