Comments

6
Facinelli Says Filming Final Scene Was 'Sad'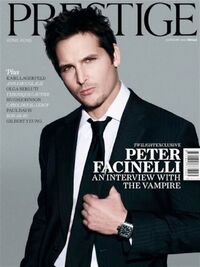 My favorite
Cullen
 :P
Peter Facinelli
recently revealed that they just finished filming the last scene of the
Twilight Saga
finale.
"The other day when we shot that ending sequence, we knew that was the ending of the last two movies and it got a little melancholy," the actor said of the recently filmed scene. "It was sad."
Not that they are done filming the rest of the Breaking Dawn films. They are scheduled to shoot well into April with the cast leaving Louisiana for Vancouver.
Facinelli also revealed that the actors are going through a grueling production schedule to create the massive fight scene that Robert Pattinson has talked about. But, he credits director Bill Condon with keeping it together.
"Bill Condon's fantastic," he said. "He's such a great actors' director. He's really collaborative. He's a joy to work with. He's very relaxed all the time. You never see him sweat."