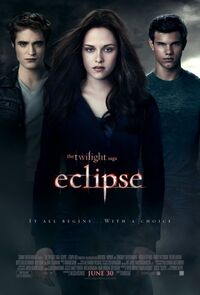 Will
The Twilight Saga: Eclipse
be nominated for a Razzie? Many news outlets are expecting to see Eclipse nominated for Worst Picture at the Golden Rasberry Awards! Other possible nominees include: 'Little Fockers,' 'Sex and the City 2,' 'The Expendables,' 'Grown Ups,' 'Clash of the Titans,' 'Killers,' 'The Bounty Hunter,' 'Yogi Bear,' 'Jonah Hex,' 'The Last Airbender,' and 'Vampires Suck.'
Wondering where some of the other terrible movies from last year are? There is speculation that 'Cop Out' will be nominated for Worst Screen Couple and Burlesque could steal acting (dis)honors for Cher, Christina Aguilera, Cam Gigandet and Kristen Bell. Other possible names to be nominated for (dis)honors include Jessica Alba, Mickey Rourke, Emily Blunt, George Lopez and Angelina Jolie, who ironically could be nominated for 'The Tourist,' in spite of her Golden Globe nomination for the same role.
What do you think Twihards? Who do you think should be nominated?
Ad blocker interference detected!
Wikia is a free-to-use site that makes money from advertising. We have a modified experience for viewers using ad blockers

Wikia is not accessible if you've made further modifications. Remove the custom ad blocker rule(s) and the page will load as expected.