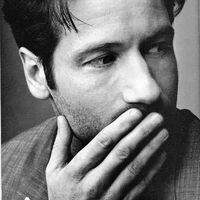 Well, this one is a little odd! "Californication" star, David Duchovny, revealed that he would "go gay" for film director Woody Allen and the male cast of Twilight!
"If I were gay, you know. I think Woody Allen is one of a long list of men I might go gay for," the former "X-Files" actor told the celebrity blog.
"Oh and anyone in the 'Twilight' movies. I don't know any of their names, but all of them. The wolves, the vampires? They're all fantastic," the 50-year-old added.
I'm not quite sure whether to take this as a joke or an attempt to snag more viewers for the season premiere of Californication. Either way the fourth season is off to a great start with its best season opener ever, with 848,000 viewers. What do you think Twihards? Is he serious or just being silly? He is a recovering sex addict after all...
Ad blocker interference detected!
Wikia is a free-to-use site that makes money from advertising. We have a modified experience for viewers using ad blockers

Wikia is not accessible if you've made further modifications. Remove the custom ad blocker rule(s) and the page will load as expected.