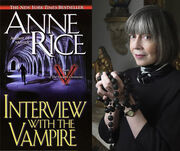 Anne Rice, best known for her Vampire Chronicles series which includes Interview With The Vampire, had a lot to say about the recent popularity of the demonic undead, more specifically Twilight.
"['Twilight']'s based on a really silly premise: that immortals would go to high school. It's a failure of imagination, but at the same time, that silly premise has provided Stephenie Meyer with huge success," Anne said. "The idea that if you are immortal you would go to high school instead of Katmandu or Paris or Venice, it's the vampire dumbed down for kids. But it's worked. It's successful. It makes kids really happy."
You can read the full interview here. What do you think Twihards? Is there going to be a vampire showdown?
Ad blocker interference detected!
Wikia is a free-to-use site that makes money from advertising. We have a modified experience for viewers using ad blockers

Wikia is not accessible if you've made further modifications. Remove the custom ad blocker rule(s) and the page will load as expected.