Hey guys heres the question who do you like the most edward the blood sucking vampire OR jacob the hard butting wolf?. Tell me your answer and tell me why you like them the most me: Why am i asking this question my answer because i am making a new topic and who ever you like the most i will make a new topic about them so chose who ever you like the most xx @me take a pic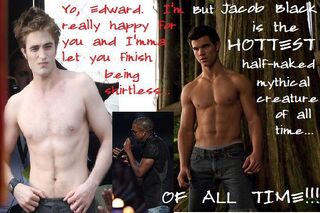 Ad blocker interference detected!
Wikia is a free-to-use site that makes money from advertising. We have a modified experience for viewers using ad blockers

Wikia is not accessible if you've made further modifications. Remove the custom ad blocker rule(s) and the page will load as expected.