hey guys!
I hope you guys like my page! Please tell me on my disscussion page if you have any ?'s.
Lots of love
Aliceandjasperforever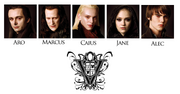 P.S. look at this pic for a sneak peak at Aro Marcu Ciaus Jane and Alec the Volturi gaurd. No pics of the wives.
sorry.