Grace
Biographical information
Born

February 13

Changed

Unknown

Created by

Unknown

Physical description
Species

Vampire

Gender

Female

Height

5'0"

Hair color

Brown

Eye color

Red; black when thirsty

Skin color

Pale olive skin

Family information
Special characteristics
Abilities

Basic vampire powers

Special abilities

Mind manipulation

Affiliation
Occupation

Volturi Guard

Loyalty
About xx.Trapped.in.WonderlandEdit
Hey!! Welcomet to my Wiki page!! :] I feel honored that an actual living thing would come and learn something about me, but I'm a very boring person, so I suggest not to waste your time here. ;D Jk!!
I am a vampire-obesessed Asian Otaku from the Philippines who is currently residing in Los Angeles. I love reading novels and books with v
Vampire Academy
,
Twilight
,
Night World
,
Vampire Empire
,
Vampire Diaries
and
Blue Bloods
. I've read some of
Cirque du Freak
,
House of Night
, and
Vampire Kisses
, but never exactly enjoyed them.

As for the animes and mangas I've watched and read, my favorites include (not in order): Vampire Knight, Shugo Chara, Mermaid Melody, Full Moon wo Sagashite, Shinshi Doumei Cross, Kamikaze Kaito Jeanne, Sakurahime Kaden, Cardcaptor Sakura, Beauty Pop, Gakuen Alice, H20: Footprints in the Sand, Daa! Daa! Daa! (UFO Baby), Kaichou wa Maid-sama, Kamichama Karin, Kaitou Saint Tail, La Corda D'Oro, Lucky Star, Pokemon, Pandora Hearts, Special A (S•A), and a lot more!! xD
My AppearanceEdit
Hair Color: Dark brown
Hair style: Layered hair below shoulders; super straight; side bangs that nearly cover my right eye
Skin Color: Light tan
Eye Color: Dark brown (almost black)
Height: 5'0"
Weight: 99 lbs
My Vampire Series Ratings Plus Favorite Character(s)Edit
Vampire Academy (5 Stars) - Christian, Rose, Adrian, & Lissa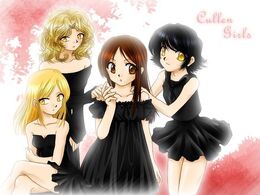 Twilight (3 1/2 Stars) - Alice, Volturi, Wolf pack (specifically Seth), Cullens; everyone except Edward & Bella
Night World (4 Stars) - Mary-Lynette, Rashel, & Keller
Vampire Empire (5 Stars) - Adele & Gareth
Vampire Diaries (3 Stars) - Bonnie & Damon
Blue Bloods (4 1/2 Stars) - Schuyler, Bliss, Jack, Oliver, Mimi, & Deming
Cirque du Freak (2 Stars)
House of Night (1 1/2 Stars) - Aphrodite
Vampire Kisses (2 Stars) - Luna
I usually hate Mary-Sue's, so you'll most likely see me hating most of the main characters like Bella, Zoey, Raven, and so on. I'm usually the type to like the antagonist because sometimes they seem more interesting and realistic than the protagonist.
Twilight TeamsEdit
| | |
| --- | --- |
| | This user is on Team Everyone. |
| | |
| --- | --- |
| | This user is on Team Volturi. |
| | |
| --- | --- |
| | This user is on Team Switzerland. |
| | |
| --- | --- |
| | This user is on Team Neutral. |
| | |
| --- | --- |
| | This user is on Team Tyler's Van. |
| | |
| --- | --- |
| | This user is on Team Alice. |
| | |
| --- | --- |
| | This user is on Team Jasper. |
| | |
| --- | --- |
| | This user is on Team Rosalie. |
| | |
| --- | --- |
| | This user is on Team Emmett. |
| | |
| --- | --- |
| | This user is on Team Esme. |
| | |
| --- | --- |
| | This user is on Team Carlisle. |
| | |
| --- | --- |
| | This user is on Team Jacob. |
| | |
| --- | --- |
| | This user is on Team Seth. |
| | |
| --- | --- |
| | This user is on Team Victoria. |
| | |
| --- | --- |
| | This user is on Team Jane. |
My Favorite...Edit
• Color(s): blue, purple, black, red
• Song(s): On My Own (from Les Miz), Set Fire to the Rain (Adele), Canto Alla Vita (Josh Groban), Heaven Help My Heart (from Chess), Too Much for One Heart (from Miss Saigon), Phantom of the Opera (from Phantom of the Opera), The Lonely (Christina Perri)
• Singer(s): Lea Salonga, Judy Kuhn, Liz Callaway, Josh Groban, Adele, Florence + the Machine, Taylor Swift, Selena Gomez, Glee, Ai Otsuka, Nana Mizuki, Cecile Corbel, Enya, Katy Perry, Lady Gaga
• Band(s): Paramore, My Chemical Romance, Green Day, Evanescence, Linkin Park
• Stand-alone Book(s): Jane Eyre, Pride & Prejudice, A Little Princess, Book Thief, Alice's Adventures in Wonderland and Through the Looking Glass, Teen Idol, How to be Popular, Memoirs of a Geisha, The Lovely Bones
• TV Show(s): Glee, Criminal Minds, CSI, NCIS, Castle, Ghost Whisperer, Wizards of Waverly Place, Good Luck Charlie, Victorious, iCarly
• Clothing Store(s): Forever 21, H&M, Aeropostale, Love Culture