Volturigirl007
Edit
Hey, I'm Volturigirl007 and I love the Twilight Saga! My favorite book is Breaking Dawn and my favorite movie is The Twilight Saga: Eclipse. I think the books are a trillion times better than the movies. I'm on Team Edward all the way. I joined Twilight Saga Wiki on September 13, 2010 (Bella's brithday!!!).
The Twilight Saga
Muse
Eminem
chocolate
Comedy Central
The Volturi
Lady Gaga
Absolutely HATESEdit
Justin Bieber
Miley Cyrus
School
People who hate the Twilight Saga
Users on Twilight Saga Wiki who's user blogs I've read and I'd like to know
Edit
Cresent Moon
LunaBella
Twilightluver0429
Which Team I'm On
Edit
TEAM EDWARD!!!!!!!!!!!!!!!!!!!!!!
Favorite Characters
Edit
Edward
Alice
Bella
Aro
Jane
Bree
Diego
Fred
Seth
Leah
Alistair
Garrett
Kate
Vladimir
Stefan
Marcus
Zafrina
Benjamin
Nahuel
Joham
Pages I'm Following
Edit
Breaking Dawn (Film)
Alice Cullen
Edward Cullen
Ten Best Characters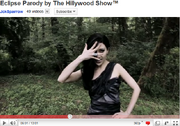 Pages I Created
Edit
Reasons the Romanian Coven's the best
The Scholarship
Theme Songs for New Moon