Welcome to my userpage!
Template:InfoboxSo you came here to find out about me. I'm flattered! But I'm not that interesting. So...good luck!
You can call me Jus, J, J-Girl.To start things off, I would like to say that I am pretty nice...unless you bash the things I love. I will defend what and who I love until the very end and beyond. But other than that, I'm a people-person. I like people. In real life I'm sort of shy, but I'm pretty fun to be around. I am passionate about the things I love, and I'm always willing to learn more.

 I can be your best friend, your sister, your admirer, or in some cases, your worst enemy, but don't count on that last one.
My favorite Twilight books are Eclipse and New Moon. In New Moon, I felt the heartbreak, and I also loved Bella and Jacob's relationship. But of course, she used him! I really dislike Bella. She's absolutely monstrous. Jacob and Bella were made for each other. Eclipse was great because it had the romance and the action and the funnies, but the movie sort of ended like, "Jacob loses, Bella and Edward are happy, the end." Once again, the fact that Jacob and Bella were made for each other is shown. My favorite movies are also Eclipse and New Moon, and for the same reasons. Well, maybe not Eclipse. Ever since I got the DVD, I've been watching it a lot, and now I'm sort of Eclipse'd out. When I watched all three movies in one day, I enjoyed New Moon the most. So, maybe New Moon is my favorite movie. I did not enjoy the Twilight book or movie because it was just, "La-dee-da-dee-da Bella and Edward's 'romance'! Yay!" I hate Bella and Edward's relationship, based entirely on lust. It's shallow with a capital S. And Edward is so controlling and downright mean. He's very creepy too. I really dislike Edward, as well as Bella. Do you know how many times in the Twilight book he insulted Bella in some way?? Ugh! In real life, I would be FREAKING SCARED TO DEATH by Edward. A boy that's stalking me, obsessing over me, and seems funny about it? Nuh-uh, boo-boo. He makes me want to throw up. On the other hand, I love love love love love Jacob, except in Breaking Dawn and some of Eclipse. I am Jacobsessed (yes, honey, it's a new word, but I did not make it up; TeamTaycobsessiveObnoxiousMoronicBlackNike'sGirl did, and the word kicks butt.) The only characters that I did not want to slap across the face in Breaking Dawn, however, were Emmett and the Denali coven. (By the way, did you read about the Denalis in the Guide? They dated human men and then ate them! Reow!) I disliked the Breaking Dawn book for a lot of reasons that I'd rather not go into right now....I think I'm going to love the movies though. Especially Part 2. I'm sick of the little whiny, annoying Miss Mary Sue herself aka Bella sitting on the sidelines like a complete moron and not doing anything. I can't wait to see her be the strong vampire goddess that she is supposed to be.
Um, I think that's it.
I don't hate Bella and Edward. I don't particularly like them, but...
Oh, and I promise that I don't bite...unless I'm provoked. ;)
If you have a question about me, or just want to say hi, or anything in between, don't hesitate to leave a message on my talk page! You fabulous Wikiers bring smiles to my face everyday.
How 'bout You Take A Poll (Don't Worry; It's Anonymous) - Opening Credits
What do you think of Twilightsagafan?
Team Jacob Utill The Very End And Beyond Because The Awesomeness Never Dies (Plus Other Teams I Am On) - Act I
Me: Twilight Saga fan favorite grams! Kate, two for you. Jacob Black? FOUR for you, Jacob Black! You go, Jacob Black. And uh, do we have an "Eleazee" here?
Eleazar: It's Eleazar.
Me: Oh, one for you, Eleazar. Here ya go. AndnoneforEdwardCullenandBellaSwanbye...
| | |
| --- | --- |
| | This user is on Team Jacob. |
| | |
| --- | --- |
| | This user is on Team Jasper. |
| | |
| --- | --- |
| | This user is on Team Emmett. |
| | |
| --- | --- |
| | This user is on Team Alice. |
| | |
| --- | --- |
| | This user is on Team Rosalie. |
| | |
| --- | --- |
| | This user is on Team Eleazar. |
| | |
| --- | --- |
| | This user is on Team Jella. |
| | |
| --- | --- |
| | This user is on Team Seth. |
| | |
| --- | --- |
| | This user is on Team Leah. |
| | |
| --- | --- |
| | This user is on Team Kate. |
| | |
| --- | --- |
| | This user is on Team Carmen. |
| | |
| --- | --- |
| | This user is on Team Tanya. |
| | |
| --- | --- |
| | This user is on Team Carlisle. |
| | |
| --- | --- |
| | This user is on Team Wolf Pack. |
| | |
| --- | --- |
| | This user is on Team Esme. |
| | |
| --- | --- |
| | This user is on Team Everyone. |
Note: On Team Everyone, I'm everyone but not Bella,Edward or Renessmme or Jane and Volturi,ect.
Anyone Who Is On Team Jacob (Or Anyone Who Wants To Understand Him) Needs To Read This.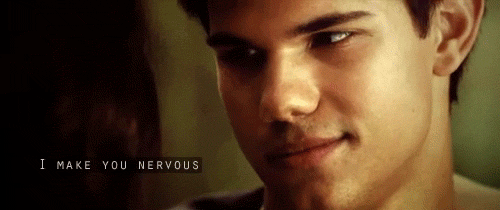 Being Jacob Black
, a
New Moon
extra, is amazing. If there is one thing I am glad that Stephenie Meyer has written, it's this. It's loads better than
Midnight Sun
, in my opinion. I've always wondered how it feels to be Jacob Black, and with this, I now have a good idea. It must suck. But it's in Jake's perspective, and I still love it. The only thing that could make this better would be if I could read the entire
New Moon
and
Eclipse
novels in Jacob's great perspective. Stephenie Meyer has started
Midnight Sun, Twilight
in Edward Cullen's perspective, so why not? Jacob is much, MUCH greater than Edward (and I don't give a flying f**k about Edward's stalkerish, twisted perspective, anyway), so it's only fair. So to get to my point, here is the link to
Being Jacob Black
, one of my favorite pieces of writing out of the entire Twilight Saga. You should read it. It's good. It
kills
flays Bella and Edward's perspectives combined alive.
And why I am Team Jacob, for the record
From TeamTaycobSoDealWithIt's userpage
I do not prefer Jacob because he's hot. No. Not at all. Being hot is a plus, but that's not why I love him. Jacob also isn't perfect, like Edward is, in others' eyes. I can list some of Jacob's flaws, in fact:
He's stubborn.
He can be rude.
He's sarcastic.
He can be immature.
He can be pushy.
Okay, and yeah, he can be an ass. But most teenage boys are asses.
But there are also reasons why I love him:
He grows and matures a lot as a character.
He actually understands Bella, so he doesn't have to guess what she's thinking.
He makes Bella happy, whereas Edward makes Bella nervous and paranoid.
He truly loves Bella, and Bella truly loved (yes, loved, not loves anymore) him.
He doesn't give cryptic little remarks; he's to-the-fricking-point
He has a pulse and a sense of humor.
He and Bella have equal power in their relationship.
He's very forgiving.
Who the hell wants to cuddle with a fricking corpse?
He's fun!
He doesn't sparkle.
He makes Bella feel safe and secure.
He fights for what he wants.
He didn't get a good ending, so he'll live in my heart forever.
And my most important reason:
He isn't perfect.
I know a sense of humor, a pulse, love, equal power, honesty, warmth, happiness, forgiveness, safeness, security, effort, fun, and character growth may not be your cup of tea, but it certainly is mine. Jacob isn't perfect, and I love him for that. Perfection is boring. Perfection is predictable. Perfection won't teach you anything. I love Jacob flaws and all.
Now shut the f**k up about all Jacob fans being on Team Jacob because he's hot.
My Favorite Pages
My favourite pages, weren't in any order.
About My Username
When I was coming up with my username on here I wanted something about twilight or Taylor Lautner was thinking of "TwilightTaylorLautner" and I didn't like the sound of that and I was thinking about the frist twilight book...and I guess I was lazy and I thought "twilightsagafan" and I hope to change my username but I'm still thinking of what to change my username to or if I shouldn't change my username at all.
Varations

TSF
Twilight (I forgot who called me this,or who came up with it)
Twilightsagafan
Other accepatable names
About me
"After 18 years of being utterly ordinary .. I finally found that I could shine"

―Bella Cullen
Well, I'm putting this section so here I go I guess...about me well if your a user I've chatted with and messaged you know a little about me, I'm not telling y'all. So, hey I'm twilightsagafan..or Jus by the users on here. So I really don't know I put this on my userpage, so I'm keeping it on my username, The only reason I'll never leave this wikia is because of the awazing friends I've meet well I was on chat. You'll have to stroll back up to see my infomation box (things about me), cause some of the things that are in my infomation box is about me. Yes, I'm a werid tween and I'm a fangirl so just deal it.. and deal with my wrong typing of things, so just deal with it!
Wikia Friends
Random Facts About Me
Skylar Laine tweeted me 1X and she Retweeted me 1X on twitter. Lauren Alaina's mom Kristy Suddeth tweeted me 1X.
Three veifited acctounts follow me on twitter and they are; Neil Perry (From The Band Perry) and Army Wives (A TV Show on lifetime) and Edens Edge (a kind of new country band) and Lauren Alaina's mom Kristy Suddeth followed me and tweeted me on 12/12/12 she tweeted me at 3:45AM on 12/12/12. :)
Some of the facts about me are in the part of are about my twilight things.
I have two The Hunger Games posters in my room
I listen to all the soundtracks almost every single night on Spotify (cause I don't own any of the twilight soundtracks)
One of my friends meet Peter Facinelli.
Hollie Cavanagh fave two of my tweets.
About my avatars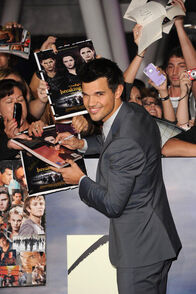 When I frist joined the wikia it was when
Breaking Dawn Part 1
was coming out and it was the trailer so my frist avatar was of Jacob. Then I think I started using pictures of Taylor Lauther,Kristen Stewart and some of my avatars had Jacob and Bella in them. And then I think I used some of Jella and than some of Taysten but I can't really remember...sorry. I remember when I right after I saw
The Hunger Games
and I put Katinss Everdeen aka the girl on fire as my avatar. But my avatars are sometimes of Skylar Laine,Hollie Cavanagh ( it's kind of rare now that I'll use Taysten or Jella as my avatar not) but see I'm starting to get back into liking not loving twilight so I'm going to try to use more Jella avatars and Taysten avatars. Or my avatar will be something I love for ex Skylar Laine, but like I said I'm going to try to use Taysten and Jella as my avatar a little more now.
UPDATE #1 - I've been editing Taysten photos with Pixlr, so if I use a edit as a avatar, you have to ask me before you use the avatar edit as your avatar, if you would like to use the avatar I edited as your avatar, please leave me a message on my talk page.
UPDATE #2 - I've starting to have Hollie and Skylar and other of my idols as my avatar again.
To Clear Things Up...
I am, in fact, a Twilight fan. People tend to say that I am not a fan at all just because I do not like Bella and Edward. I am a critical fan, people. Believe me, they exist. There are some in the world. After all, we couldn't function without them. I am also a total Twihard. I've examined this piece of work long and hard, and I still am. I could tell you nerly anything you want to know about the Twilight Saga. Which cast members wore wigs or had their hair dyed, how the supernatural abilities work, why so-and-so did what, etc. Just because I don't cream my panties over Edward, I don't imagine myself as Bella, and I tend to bash characters doesn't mean I am not a fan. I am an avid fan of the Twilight Saga. I love the series for its better characters and their histories, not for Edward and Bella. I can even give some cons to the imperfect Jacob Black. I love him because he isn't perfect. I am one of the few fans that can admit to the Twilight Saga's pros and cons. I'm just keeping it real, guys. Love me or hate me.
And, uh, dontholdanythingyouseefrommyTwitterorTumblrorInstagramorfanfictionoranythingelseagainstmebye.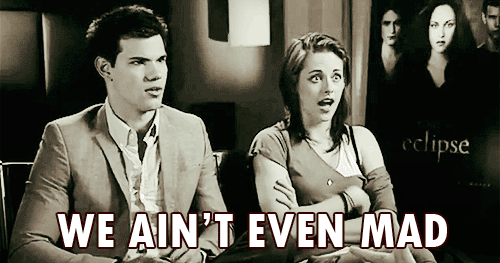 My favorite chapters of the Twilight books (in no particular order)
Twilight
Blood Type
Scary Stories
Port Angeles
Complications
Confessions
Mind Over Matter
The Hunt
Hide-And-Seek
Epilogue: The Occasion
New Moon
Party
The End
Waking Up
Repetition
Adrenaline
Third Wheel
Killer
Family
Paris
The Funeral
Epilogue: Treat
Eclipse
Ultimatum
Motives
Imprint
Switzerland
Unhappy Ending
Legends
Time
Newborn
Declaration
Wager
Compromise
Trails
Fire and Ice
Monster
Ethics
Epilogue: Choice
Breaking Dawn
Gesture
Unexpected
Waiting For The Damn Fight To Start Already
Sure As Hell Didn't See That One Coming
Some People Just Don't Grasp The Concept Of "Unwelcome"
You Know Things Are Bad When You Feel Guilty For Being Rude To Vampires
Too-Much-Information Alert
What Do I Look Like? The Wizard Of Oz? You Need A Brain? You Need A Heart? Go Ahead. Take Mine. Take Everything I Have.
There Are No Words For This.
First Hunt
Favor
Irrisistable
Talented
Company
Declared
Vampire Index
You think you know, but you don't really know things about me -  Act II
Well, I don't know what to put here....
Bella Swan Bella Swan and Edward Cullen make me feel sad and annoyed DISGUSTED.
(Not for Bella and Edward fans. No offense to those that like them, but I really, really don't.)

Reasoning With Vampires is a great blog on Tumblr. There's a link below too, actually. But here, I'd like to point out that Bella is sad, self-hating, stubbon, selfish, and stupid. So here are some of the pictures (evidence and analysis, really) from Reasoning With Vampires. Twihards, beware. Reasoning With Vampires bashes the Twilight Saga, but it is a very clever and good blog. Dana is so freaking spot-on. (Too small for ya? Click to zoom in and go!)
I was looking around the Wiki, and found an old comment of mine on a blog on why I hate Bella.
Hmm... Let's see, shall we? Ready, set, GO: She's whiny; she's a flake; she's a lazy, do-nothing that does not deserve Edward nor Jacob; she takes too long to get over a guy; she's so perfect; she is WAY BEYOND a Mary Sue; she doesn't mind being stalked; she's obsessive; her self-esteem is dangerously low; she is both selfish and selfless (weird!); she relies on guys way too much; she's the tease created by Hades!; she's a maneater; she USED Jacob; she's a hypocrite; the only person she can accept wholly for who they are is... *drumroll* Edward!; she's BEYOND easy (especially for Edward); she's lame; she treats other humans like dirt; she has almost zero sense of 'humor (Edward has zero); she's BEYOND annoying; she doesn't want a makeover from Alice (who wouldn't want one?? It's from Alice!); she takes a lot of things for granted; her attitude sucks; she barely grows as a character throughout the entire Saga; Leah or Rosalie hasn't beaten her up yet (JK... well, sort of); she's so childish; she can be a brat at times; guys flock over her when she's really just terribly mediocre; she's boring; her whole life is about.... guess who? Edward!; she needs a life outside of Edward; if she's well-rounded, then I am a whiz at the slope concept. I suck at slope, therefore, Bella is not the least bit well-rounded; she's an anti-feminist; she isn't exactly the perfect role model; she makes women look bad; Melinda Sordino from "Speak" or Jessica from "Zathura" could kick Bella's sorry butt in a heartbeat; etc. As for her appearance: her eyes are slightly beady; her wigs in "Eclipse" were pretty pathetic; her fashion sense is a little on the lame side, but I do really like her jackets, it's the weirdest thing; she almost always looks unhappy, a tad hungover, so worn out that she needs a good eight hours of sleep, and like she'd rather be someplace else; and it wouldn't kill her to dress up a little for a graduation party (I know she did in the book, but not so much in the movie). The appearance things aren't really her fault, so I don't like to mention them. I mean, how superficial is that? Judging people by how they look is so shallow.
Can I stage an intervention for these Characters? Please?
A good, true quote:
"In a healthy relationship, each person is allowed to have their own friendships. No one has the right to control another person's activities or approve their friends. Isolating you from the people you love, limiting what you do, harassing you, being jealous, suspicious or paranoid -- these are manipulative and unfair actions."

-- loveisrespect.org
Edward. Is. A horrible. Boyfriend. He dictates Bella's relationships and friendships; he controls Bella's activities; he isolates her from her friends and family members; he controls her every move; he gets totally jeaous; he's suspicios and paranoid...I don't see anything good about this boy. Others can say that he's trying to "protect" Bella because he "loves" her, but if he truly loved her, he would give her what she wants and let her do what she wants. The worse part is that Bella is accepting of Edward's actions. What Bella and Edward have is not love, kids.
Why I Want To Give Jacob Black A Hug
Person: Why do you obsess over that person/fictional character so much? They're never going to love you back.
Me: Why do you breathe if you know you're eventually going to die?
Jacob has it
sooo
bad in the Twilight Saga. It's not fair. These are the reasons why I feel so sorry for him and why I would comfort him with all I had if he were my friend.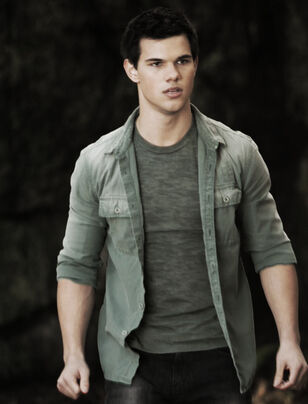 Bella used him in Twilight for information on Edward.
Jacob was kept at arm's length in New Moon and Eclipse, and then just had his heart ripped right out of him.
He was Bella's (and later, Re-name-me's) little bitch in Breaking Dawn.
Jake is the chief; NOT Sam.
He lost to a sparkly, ugly vampire.
He fought the hardest for Bella, but it wasn't enough.
Jacob hugs are the best! :D
He had to deal with the Cullens.
He spent all that time with Bella on the motorcycles, but Bella only drove hers, like, twice.
He stuck around to piece Bella together (and he even saved her life) to have her run off to the Cullens.
He was led on because Bella needed a shoulder to angst on.
He was beaten up by a newborn and all he got in the end was an, "Umm, see ya later, buddy. I still love ya! But you still love me...right?!?"
Bella is a complete idiot, a total bimbo with half a brain (at most), yet Jacob was always there, always fighting for her.
He had all the potential to be totally awesomesauce and the most kick-ass guy ever (if he got over Bella)...but then he imprinted on Re-name-me. *facepalm*
10 Twilightish Things You May Or May Have Not Know About Me
The only midnight showning movie I've seen was Breaking Dawn-Part I on Nov, 18, 2011 (11.18.11) I have a sweater or jacket (whatever you like to call it) from when I saw Breaking Dawn - Part 1 on opening night of last year (11.18.11)
I own all of the twilight saga movies.
I have a Jacob twilight blacket witch I sleep with every.single.night
I have two Breaking Dawn Part 1 and two Breaking Dawn Part 2 posters in my room (two are the Breaking Dawn -Part I posters are of Jacob and the other is of the Cullens and the two Breaking Dawn Part 2 posters are the same poster and is of Jake)
I have four wilight t-shirts (Two t-shirts of Jacob, and,one from Breaking Dawn - Part 1 and another one is of the cullens)
I have a Jacob and Edward locket and I also have Rosalie's cullen crest (whitch I don't wear, beause the cullen crest falls off.)
I have a team Jacob rubber thing and I also have a "I love Jacob" pin from my last birthday when I turned 14 years old.
I have a Eclipse Puzzleball and two Twilight scene-it games.
I have The Short Second Life Of Bree Tanner and I also have a book on Taylor Lautner.
I had a Team Jacob birthday cake for my birthday last year when I turned fourteen and I gad a Jacob cake for my birthday.