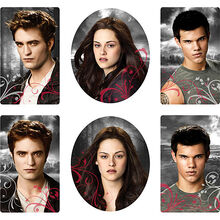 Hey Twi-hards!!!!!
Hello!
I love The Twilight Saga so much!!!!!
For me,Stephenie Meyer is very smart,creative
and imaginative,because if she didn't thought
of making Twilight,no one knew about it,and we didn't heard about it!
But,i know and everyone knows,someday,a few years from now,
Twilight will be forgotten,no more fans,no more Team or Sides,
No more love for Twilight!
But,im excited and afraid of Breaking Dawn,
because,after Breaking Dawn,NO MORE TWILIGHT!!!!!!!!!
THE END! there will be no more Twilight,
unless we make sure our DVDs are safe,or hope that it'll still work when we're older.
Well,
Bye TWI-HARDS
Love The Twilight Saga forever!!!!
///////////////////////////////////////////////////////////
/ About Me: /
/ Name: Robin Nicole Breeze /
/ Nickname: Nicole,Robin /
/ Birthday: March 1 1991 /
///////////////////////////////////////////////////////////
My favorite pages
Edit
Add links to your favorite pages on the wiki here!
Favorite page #2
Favorite page #3