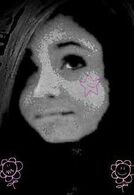 Well, obviously that I'm on here, you must be ableto tell that I REALLY love Twilight Saga.
It's probably the best series ever. You can get into those books, it makes you sorta wish it was all real. That's how I think about it atleast.
Alice is my favorite Character, because she is
so
interesting. Her talent, her histroy, all of it.
Gabriella
Biographical information
Born

May 15th, between 1900's and 2000

Changed

July 7th, 2010

Created by

Alice Cullen

Alias

Gabi (the Cullen Family)

Physical description
Species

Vampire

Gender

Female

Height

5'2

Hair color

Light Brown

Eye color

Blood Red (soon to be a Golden)

Skin color

Pale

Family information
Family members

Carlise Cullen (adoptive father) Esme Cullen (adoptive mother) Edward Cullen (adoptive brother) Alice Cullen (adoptive sister) Rosalie Cullen (adoptive sister) Emmett Cullen (adoptive brother) Jasper Cullen (adoptive brother)

Special characteristics
Abilities

To make someone love her

Affiliation

TwilightLoverForEver 22:39, July 7, 2010 (UTC)GabriellaTwilightLoverForEver 22:39, July 7, 2010 (UTC)
My favorite pages
Edit
Add links to your favorite pages on the wiki here!
Favorite page #2
Favorite page #3