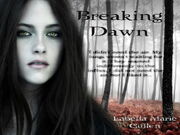 I will be Twilight fan-FOREVER!
My favourite character is Alice Cullen.. The Twilight saga book/movie is the best! It is better than Beethoven or something else.. Bella Swan,later Cullen,is more beautiful as a vampire than as a human.. Isn't it right?
So.. That's all about me..
P.S. I don't know what to say.. I am new here..
Am I in the TEAM?
Edit
Yes,I am in the Team Alice.. (maybe,I don't know..) They're all awesome!
But,I've got the older sister,she adores Rosalie! She says that Rosalie is the best,but I really don't think so..
Well.. I live in L.A.. It is so beautiful there.. I was on a trip with my family.. We were goin' to Hollywood. I saw a lots of celebrities,but i didn't saw any actor/actress from Twilight!!
What about the Volturi?
Well,I like them,but not like others... My favourite character is Jane.. She is beautiful.. My sister likes Aro,cuz',she says.. He is "too funny"..LOL ..
I've gotta brother,too.. He likes Caius.. He says that Caius is "cool".. And he says that Caius is "the best".. Do you think so? I don't think.. so....
Did I read Twilight books?
Yes,i read that book.. It's fantastic!
I read it every Monday,Tuesday,Saturday,Friday (ALL THE TIME)...
What I think about Renesmee?
Well..She is so cute.. Mackenzie Foy plays Renesmee at Breaking Dawn... She is sooooo cute..

You can take this quiz.. It's fun...
You can learn more from Twilight characters from this website..
Or.. You can leran more from this website..
Or if you are just looking for Twilight blog,here it is..
You can see casts on this website..
If you'rejust looking for Twilight quotes,here it is..The website full of the Twilight beautiful quotes.. I liked them.. So much..