| | |
| --- | --- |
| | This user is on Team Jasper. |
| | |
| --- | --- |
| | This user is on Team Alec. |
| | |
| --- | --- |
| | This user is on Team Volturi. |
| | |
| --- | --- |
| | This user is on Team Jane. |
ThatVolturiFangirl
Hello everyone, I'm Katie. :) I know almost everything about Twilight and I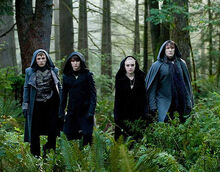 love Cameron Bright who plays Alec and Jackson Rathbone who plays Jasper Hale. I've read all of the books, of course, and watched all of the movies (apart from BD part 2 which I can't wait for!) I love to write Twilight Fan Fiction stories along with other stories. Also, I have quite an obsession with vampires. I can't stand Bella, no offence to those who like her or wha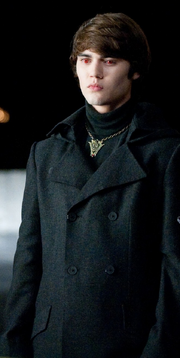 tever. I don't like Edward or Jacob either. ;) I'm on team Jaslec! I listen to mostly McFly. I've been a fan of their's for ages and I love their music. I'm 14 years old. I go to school and I don't really like my lessons. I only really like English, ICT and, sometimes, PE. I live in England, as it says above, but nowhere near London so I don't speak all posh or whatever. xP I LOVE to write, I spend half my life roleplaying, typing up stories and reading. I was introduced to Twilight by a friend just before New Moon came out. I knew of Twilight before that but I was told it was rubbish so I didn't bother! I love wolves, horses and cats. I have a pet cat called Jasper, but he's not named after Jasper Hale and I nicknamed him Jaspy. I'm a true Twilight nerd.
If you want to read some of my fanfictions, leave me a message and I'll get back to you ASAP. :)
Team VOLTURI
Jackson and Cameron are HOT. I've been a Jackson fan longer but I didn't realise how awesome Cameron was until later. Now, I'm more a Camfan than a Jackson one. :) I also love the Volturi, I'm a huge fan, as you can tell.
Favourite Twilight Quotes (From both books and movies)
"Sister. They send you out for one and you come back with two... And a half. Such a clever girl." - Alec
"It appears we've missed an entertaining fight." - Alec
"And this is the cause of all the trouble?" Alec
"There are no options for those who break the rules." - Jane
"I think you know who we are, so you must know that there is no point in trying to surprise us. Or hide from us. Or fight us. Or run." - Jane
"This may hurt just a little..." - Jane
"Black eyes, wild with their fierce craving for my death, watched for the moment when my protector's attention would be diverted. The moment when I would surely die." - Bella
"Immortality suits you." - Felix
"My instincts told me that there was danger, that the angel had meant it when she spoke of killing, but my judgment overruled my instincts. I had not been taught to fear women, but to protect them." - Jasper
"You held out your hand, and I took it without stopping to make sense of what I was doing. For the first time in almost a century, I felt hope." - Jasper
"Jasper? What do vampires do for bachelor parties? You're not taking him to a strip club, are you?" - Bella
"Anyway, you don't irritate the Volturi. Not unless you want to die — or whatever it is we do." - Edward