Heyho
Basics
My name is Helen, I am currently 16 years old and I live in a small, most probably unknown country called Norway. It's quite cold up here, especially during the winter but I don't really think I would want it any other way. I've been a fan of the Twilight Saga for about 4-5 years now, and I've dedicated a whole lot of my time to it. These books (and movies) are a huge part of my childhood and I have basically grown up with this whole phenomenon, which has had a huge impact on my life. Next to loving Twilight with a burning passion, I also enjoy stalking Justin Bieber. Well, I've kind of drifted away from this whole Bieber-fever thing but I still love him lots and he still means a lot to me. Ever since I saw him live for the first time in May 2012, I've done nothing but waiting for the next time when he visits Norway, which is something that is set to happen in April 2013 and I have, of course, managed to get a hold of some tickets. I honestly cannot wait for that concert, but I won't go any further into that now. Some of you might already have stopped reading this bio. Oh well. I am also a huge fan of Taylor Swift, whom is basically the reason why I'm still alive today. Her music has helped me through so much, it's almost unreal. I owe her my life (at least that's what it feels like). On my spare time, I like to just sit around in my bed while talking to people online, watching JacksGap and Kingsley on YouTube, but I also enjoy hanging out with friends. I do currently NOT have a boyfriend, but there's this cute guy in my class and, um... Yeah. I'll let you guys know if something happens, omfg.
Description
I'm mostly a very happy and energetic girl who loves to make new friends, but I have done a few things in my past which I'm not proud of at all. But, as I mentioned; that was in the past, so the only thing that matters now is who I am this very day, whom I would describe as nice, kind and friendly. I have shoulder-long, strawberry blonde hair (yES, there is a hair colour such as strawberry blonde. If you don't believe me, gOOGLE IT), I have green eyes and I'm approximately 5'6 (which is like 168 cm). I have a bunch of friends whom I love more than my own life (some of them live halfway across the world from me, which sucks, but distance doesn't matter). I guess I'll just finish this introduction off with some quite nice webcam and iPhone pictures of me; enjoy 8)
Face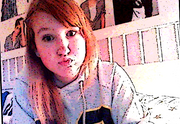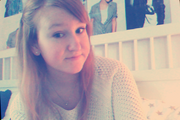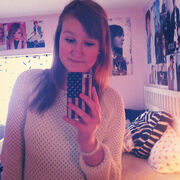 Twilight
Summer of 2009, one of my friends introduced me to the movie version of Twilight, and I instantly fell in love with it. In fact, I was so in love with the movie that I went straight to the bookstore to get myself a copy of the book. To me, it was one of those books which are impossible to put down; once I started reading it, I completely drifted off into my own world of thoughts and dreams. It took a lot of effort for me to snap out of it and go back to reality, though I have to admit that I enjoyed the movie more than the book. Don't get me wrong, the book is great, but I just think that it's some sort of slow. It doesn't really get to the point right away and some parts are just plain boring. I am a very impatient person, so maybe that's why I found the movie slightly better. Anyhow, after reading the book (and watching the movie) I left with a colour image; blue. Surprising? Not really. Edward is a vampire, he's cold, the whole thing is really mysterious and stuff like that. I think that's maybe the reason why I found both the book and the movie so captivating. I would say Catherine did an extraordinary job when it comes to reflecting Stephenie's vision. The colours suit the movie perfectly and I love both the book and the movie very much.
Favourite character
I love Charlie in this one. He's so nervous about having Bella coming to live with him, yet he cares so much for her. When Bella puts on an act and leaves him just like her mother did, you can basically feel the pain that is flowing through him, and it literally breaks my heart. I also love his humour; I love everyone who can be sarcastic once in a while. So yeah, I would have to say Charlie is my favourite in this one.
New Moon
My God, where to start? This is by far my favourite movie in the Saga, but the book on the other hand was quite a bummer. It's slow, boring and very average at times. I won't go into many details about the book, simply because I didn't find it as interesting as the first one. New Moon didn't captivate me in the same way. The movie, on the other hand... Wow. It's basically just perfect. I worship Chris Weitz and his work. The movie was everything I could ever hope for; it's warm, passionate, loving, captivating, pure... I just love it to bits. Taylor and Kristen's chemistry is so freakishly beautiful it makes me want to sob (which I do pretty much every time I watch this movie), and I love how Stephenie decided to bring Jacob more out in this one. It was in New Moon that I fell in love with him, and I don't remember getting up ever since. He turns out to be much more than just a 16 year old boy and he has a lot to offer Bella. Personally, I think they were made for each other, but according to Stephenie, they weren't. I am forever bitter. Anyways, I love Bella and Jake's relationship with every bone in me and I think Kristen and Taylor portrayed it perfectly. Book: thumbs down, movie: A+.
Favourite character
Some of you might already have guessed it; Jacob. Do I even have to explain myself on this one? He's just perfect. He has a really great (and growing) personality and he's everything a girl could ever wish for. I didn't really notice him that much in Twilight, but in New Moon, I realised that he's just what Bella needs. I also love how Taylor portrays him. He was perfect for the role, hands down. Jacob is my baby and I don't think I'll ever be able to express myself when it comes to how I feel about him. I just... There are no words, honestly.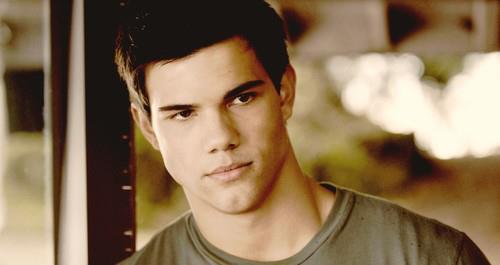 Eclipse
I'm gonna have to go with the book this time. The book is precise and to the point, while as the movie doesn't really capture the right moments. For instance; in the book, Bella imagines what her life with Jacob would be like if she chose him, seeing all these black-haired kids running off into the woods, but there's none of that in the movie. And that's basically what I missed; the way David Slade didn't choose the right scenes. Bella and Jacob's kiss was my favourite part, there's no doubt about that, but I just wish they would've extended it even more in the movie. Also, the movie didn't leave me hanging with any particular feeling at all, and I got tired of it after only seeing it a couple of times. The book on the other hand brings out so many of my favourite parts in the Saga, so Eclipse is definitely my favourite book. 
Favourite character
Once again; Jacob. I love how he's so determined and so in love with Bella. He cares for her so much, it's so cute. I also enjoy his dark side, and he's not afraid to express his feelings. Sigh, my baby. I love him, I love him, I love him, I love him.
Breaking Dawn (part 1 & 2)
I'm gonna have to divide this thing into book 1, 2 and 3, and then part 1 and 2. There's just way too much to say about this. Where to begin?
Book 1
I haven't read this book in a while, but from what I remember, I enjoyed it quite a lot. I cried so hard during Bella and Jacob's wedding dance, you wouldn't even believe it. I also cried while reading about the wedding, because, in my mind, it looked perfect. The Honeymoon was sweet and also very simply portrayed in the book, and I like how Stephenie didn't go too far into any details. She kept it short and simple. I liked that a lot.
Book 2
Favourite part of the whole Saga right there. I absolutely ADORED reading things from Jake's perspective. I guess I never really understood how much he loved and cared for Bella, but this gave me a great insight. I kind of really (really, really, really) hate the imprinting part, though, because I think it ruined everything I ever believed in. I always knew Bella wouldn't choose Jake, but making him imprint on Bella's daughter? No. No, no, no, no, NO. That's just wrong. It's gross, it's disgusting. I don't even like Renesmee. Don't get me wrong, she's one cute baby, but I just... Ew. What is this, a story about incest or something? Of course, I want Jake to be happy, but he does not belong with the daughter of the girl he once loved with all his heart. It's just not right, in any way, no matter how many times you twist and turn it. It will never be right to me and I will forever be bitter. Stephenie basically broke my trust with this plot. It's horrible, heart-breaking. The whole imprinting thing is just a big, fat NO from my perspective.
Book 3
I'm not really sure what to say about this part because I can barely remember anything. Well, I remember crying when Jacob and Nessie were about to leave for South-America or wherever it was, but I also remember finding the battle quite boring. I mean, nothing really happened? So I guess this part was the most boring one, but it also confused me quite a lot because it didn't feel as if it was Bella telling the story. This wasn't Bella, this was someone else. Who she was, I will most likely never know. I just know that it didn't feel the same as the other books. 
Part 1
This movie is like a crying marathon deluxe though???? Oh my God, it breaks my heart just as much each time I watch it. My favourite part is Bella and Jake's wedding dance, which I think Bill captured perfectly. It's so beautiful and sweet and simple and real. It's so real. I always end up sobbing but I love it to bits. Probably my favourite moment after Jella's kiss in Eclipse. Yep, definitely. Anyways, the birth is one gross scene and it honestly breaks my heart into a million pieces when Jake realises he's lost and basically just breaks down in tears. Can I just mention how great Taylor was in this movie? I mean, you can definitely see how much he's developed since the first movie and I think he deserves every award there is for his work in this one. Stunning. I also loved Robert and Kristen. Kristen is more gorgeous than ever and Robert looks quite nice himself. I really loved them all in this one, to be perfectly honest with you. The ending, though; I just have to comment on it. I always knew how it would end, I just had a feeling. I went to this thing called Twi-Day, where they had a Twilight marathon and then a pre-premiere of the movie at midnight, and as we approached the ending, I was sat there while whispering to one of my friends "Wait for it, wait for it, she's going to open her eyes and they're red and then the movie ends, just wait for it, wait for it..... HAH I TOLD YOU SO", oh my god. I was right though, yay 8)
Part 2
MY HATE TOWARDS THIS MOVIE IS SO STRONG IT SHOULDN'T EVEN BE LEGAL, LIKE OH MY GOD WHY DID THEY DO THAT. WHY WOULD THEY DO SUCH A HORRIBLE THING TO US. KDSJHFSGKJHDFLKGJHFD.
Ok, let's be serious; the movie is great. Above all expectations. But the plot twist? Oh God, no. Never have I ever been more traumatized in my entire life. I was literally tHIS close to walking out of the room. It starts off as expected and you're just sitting there, not having a single clue what's about to happen. Suddenly Aro is standing there with Carlisle's head in his arms and then hell breaks loose. I was literally sitting on the edge of my seat, trembling and shaking and crying and sobbing and almost screaming. I remember thinking that this is NOT how it was supposed to end. I honestly had no idea what to do, I wanted to lay down and die (I'm not even exaggerating), I wanted to scream and yell and basically just punch a baby. I was honestly losing myself and then when it turned out that nothing really did happen, the whole room went quiet before everyone let out a big, fat "WHAT?!". I will honestly never ever forget all the emotions that rushed through me in that moment, or how relieved I felt when I realised it wasn't real. I mean, I was expecting a plot twist, but this? Never. It was the biggest shock to ever happen to me, ever. I have never been so scared in my entire life. But, despite all this traumatizing mess, I loved the movie. I haven't seen it since I went to the midnight premiere, but I will most definitely get my own copy as soon as possible. I cried like a baby during the credits, and sometimes when I'm taking a walk down memory lane, I put on the second version of A Thousand Years and I look through all my books and my movies and I just let the tears flow. I can't believe such a big part of my life is now over, but I am forever grateful and I will always carry the Twilight Saga with me in my heart. I will always love it and I know that I will always get the same feelings when reading the books and watching the movies all over again. There's nothing anyone could ever do to make me lose my love for the Twilight Saga; not now, not ever.
Others
In case you are wondering anything, don't hesitate to write me. Also, if you want to contact me any other places, you could always message me on either my anon blog or my fangirl blog; my anon blog is to be found here , and my fangirl blog is[http:// here here] here . You can also find me on Twitter, here .
Alright, I guess that's it. If you read it all; thank you, and if you didn't; thanks for just visitng my profile at all. Take care! xx