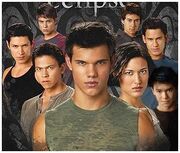 Hi, I'm TeamPeetaJacobGirl! I love Twilight, Harry Potter, The Hunger Games, and the Percy Jackson series. As you can tell from my name, I'm a Team Jacob, though I don't not like Edward. I'm also 100% Team Peeta!
FAVORITE TV SHOWS: Pretty Little Liars,The Nine Lives of Chloe King (bring it back ABC!!! Please sign the online petition!), Family Guy, Glee, The Simpsons, and occasionally iCarly.
FAVORITE BOOKS: Already listed them!
FAVORITE TWILIGHT CHARACTERS: All the Quileutes, most of the vampire covens, Alice, Jasper, Emmett, Rosalie, Esme, Carlisle, and occasionally Bella. Sometimes in the series I found her selfish and rude, but generally she seems like a relatable character. Oh, and Victoria, James, and Laurent! Especially Victoria! She's so cool and I liked Rachelle Lefevre better than Bryce Dallas Howard. All in all, I have a lot of favorites, but my top five vampires are: Jasper, Alice, Victoria, Emmett, Rosalie. My favorite Quileutes are: Jacob, Leah, Seth, Sam, and Embry. Humans are: Pre-vampire Bella, Charlie, Renee, Billy, and Angela.
FAVORITE TWILIGHT BOOK: New Moon! I loved it when Bella and Jacob got closer!!!! :D
CELEBRITIES I LIKE: Taylor Lautner, BooBoo Stewart, Kristen Stewart, Robert Pattinson (okay, all of the actors in Twilight), Josh Hutcherson, Jennifer Lawrence, Taylor Swift, Katy Perry, Alexander Ludwig, Isabelle Fuhrman, Lenny Kravitz.
TWILIGHT CHARACTERS I HATE: I really did not like Lauren at all. Jessica was okay-ish but not my fave. I don't hate Bella at all but I was really annoyed when she kept bugging the Cullens about being a vampire.
ABOUT ME: You know what I love in terms of entertainment. I also love my family, friends, dog, computer, and iPod. :). I am really tall for my age, have dirty-blond hair and green eyes. Currently my skin is a golden tan. I also have braces :p but weirdly my teeth are pretty straight.
Anyway, please read my blog and look for my comments on any page! Also, I wouldn't mind having a chat conversation:)
My favorite pages
Edit
Jacob Black
Edit
Jasper Whitlock Hale
Alice Cullen
Emmett Cullen
Rosalie Hale
The Olympic Coven
Edward Cullen
Bella Swan
All the Quileute members