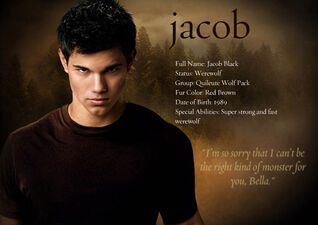 Well u see that I am on Team Jacob. But I am a girl that hangs out with a bunch of boys. I have 10 guyfriends and 4 to 5 friends that are girls. My favorite show are Big Time Rush, Ned Declassified School Survival Guide, Degrassi, and Sponebob Squarepants. I been a Twilight fan for 2 years straight. My type of movies are teen romance, drama,and fantasy. My favorite type of music is classic, pop, alternative, rock, r&b, and dance. I am a huge fan of Carlos Pena Jr. (Big Time Rush), Taylor Lautner, Hutch Dano (Zeke and Luther), and Sponebob Squarepants. And yes I am sadly single! But boys still stare at me for no good reason. My favorite band, though, is Maroon 5, Kings Of Leon, Big Time Rush, Snow Patrol, and Evanscence.My favorite movie is Bandslam. My favorite book is The Second Short Life of Bree Tanner. I am in middle school right now....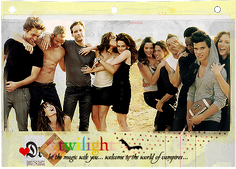 JACOB QUOTES: (To Edward) "If you weren't planning to suck the life out of the girl i love I might.. No, not even then."
(To Bella) "I'm exactly right for you, Bella. It would have been efortless for us--- comfortable, easy as breathing."
My Pics and Opinions.
Edit
I LUV JANE GIFTED POWERS!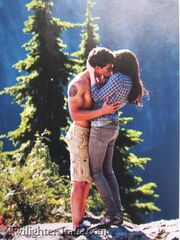 I THINK JACOB AND BELLA IS PERFECT 4 EACH OTHER!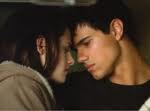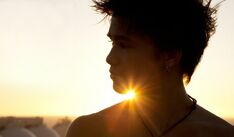 I THINK SETH IS HOT
"It's not like love at first sight, really. Its more like... gravity moves.... suddenly. It's not the earth holding you here anymore, she does.... You become whatever she needs you to be, whether that's a protector, or a lover, or a friend."
―Jacob Black to Bella Swan on imprinting