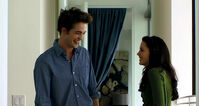 okay want to know about me?? Well i live in Washington Forks jk i wish!! that place is BEYOND BEAUTIFUL!!! i actually live in California. but im not poor. im rich but not like Oprah rich, hehe. I've actuallly been to Washington Forks one summer it was so wonderful!! i go to alot of places each summer.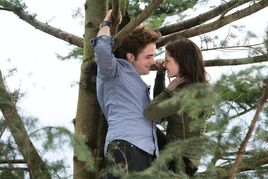 My first favorite movie out of all twilight saga movies, well its between Twilight and New Moon, the reason i like twilight is because its when bella and edward first meet and i think it is so passionate, and sweet. Oh and edward looks very attractive in twilight also. Once i saw the movie i fell in love with edward, i was like "he is the one i wish to marry". So im technicly Team Edward. I dont like jacob, mainly because i HATE HIS ATTIDUTE!! its like he's mean all the time. But if he had a nice attitude i might like him, but not as much as i like edward. Another reason is i mean he's not that attractve i mean the only thing attractive about him is his body and his smile, thats why girls are on team jacob. I think its just not the looks, i mean its the looks but there's more, you cant just be on a team for the looks because there's persanality also. okay back to Twilight. This picture up there is like my favorite scene because edward plays Bella's Lullaby on the piano and i think it just absolutly goes with this scene. Bella's lullaby has to be one of my favorite piano songs cuz its so beautiful!!! and i love this scene because he shows her what he can do that no other person can do. Its like soo unreal!! i wish i was there with him!
The reason i love New Moon is because Edward looks super hot in that movie. I mean literly have you ever seen a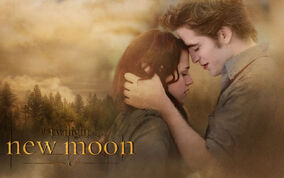 man that gorgeous!! . Thats like the main reason why i love New Moon. When edward leaves i kinda feel heartbroken because hes not going to be in the movie anymore like until the end, I start to feel really bad for bella cuz she's like suffering without edward. but there's no way she screams at night. I like bella she's like cool and fun and i just connect with her. I mean sometimes when i see new moon and the break-up scene i feel the exact way bella feels when he leaves. My favorite scene in new moon is when bella saves edward, and when edward askes bella to marry him. i just feel so happy at the end. (:
i think when Breaking Dawn comes out its going to be one of my favorites to. I read the book and its like really good.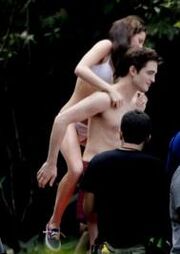 here is another picture of Breaking Dawn.
My favorite pages
Edit
here are some videos.
http://www.youtube.com/watch?feature=player_detailpage&v=oBI2F4cROJ0