There coming to take me away haha,there coming to take me away aha to the     funny farm! xDEdit
Hehe that was weird o.o Anyway you came to get to know me? Good luck with that.
Edit
My name is classified...KIDDING! My name is Bunni,no that's not my real name. I HATE my real name.
I'm a twihard,Potterhead,The Joker from Batman fan ;) (Heath Ledger's version only! R.I.P),and alot of other things.
I'm kind of a comic nerd,so I read comics like Batman,The Avengers stuff like that!
I am a girl..Just saying.
Black is my favorite color!
Vampires are amazing! Especially the one's from the movies Underworld,and Dracula! The classic!
I am 15 years young..
I am a vampire,witch,ninja,unicorn,and the wife of the Joker..I LOVE HIM DO NOT JUDGE ME! :'(
Some people say I am weird..Which is true..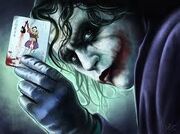 < There he is..In all his glory!
Okay..I am a little obsessed..
o.o
So that's all...
Thank you for reading..I guess..
~Bunni xoxox