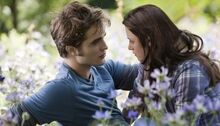 Hey!
My name is Hilly, and I'm a huge fan of the Twilight saga (team Edward in my heart and soul=]) and the vampire diaries - this one is more complicated because I used to be team Stefan, but when I saw episode 20 in the new season I moved to team Demon... and in the same episode (and this is a spoiler - be aware) I was so pissed up because he's going to die! I mean, for crying out loud, I just got in his team - and in a few minutes after that, he will be dead!
I also love to play on piano and my key-bourd, and I read a lot =]
My favorite pages
Add links to your favorite pages on the wiki here!
Favorite page #2
Favorite page #3

My favorite characters
Bella - She's the one who showed us from the first place this unnatural world of myths. Plus, she's the perfect match to Edward, so how can i NOT love her? jaja XD
Edward - The most perfect guy on earth, though he's a vampire (what makes him even better) and he's the greatest creature in the world. Edward, I love you! =]
Alice - This tiny creature is the funniest character in this whole saga =] and she knows about fashion like no one does!
Jacob (man) - My brother likes him, and i started to like him too since BD, at his book... he's funny too, and he has muscles, and lots of them =]