Welcome to my userpage!
Savannah Pierce Hunter
Biographical information
Born

February 20, 19xx

Physical description
Species

Vampire

Gender

Female

Height

6'1

Hair color

brunette

Eye color

blue

Skin color

olive-toned

Family members

My wonderful family
My amazing friends
Nathan Hunter (husband)

Oh, hey there! I'm Savannah. One more thing. This page is practically filled with love, passion and a love for Shakespeare, so if you hate that stuff, get lost. No, get lost please. Now, enough with introductions. :)
Before you start thinking shit about me, I'd like to say that I'm actually a nice person...well, unless someone - friend or not - provokes me or picks fights with my friends and family. I'm very outgoing, too. All that aside, you won't find many Twihards around here that are like me. Why is that? Well, keep on reading, buddy. You'll see. I have a strong passion for music. I'm a recording artist, but I'm currently unsigned. I want to change that, and preferably soon. I write my own songs, and occasionally cover a few. I am also an author, unpublished of course. Music and writing are my passions, and as far as my stories go, I mainly write originals. I've tried my hand at fanfiction, and it didn't go over so well.
Have fun!
Why don't you take a quick poll?
What do you think of Savannah Star?
Life soundtrack
OPENING - "Faster" by Within Temptation
WAKING UP - "Crashed" by Daughtry
FIRST DAY OF SCHOOL - "All the Small Things" by Blink 182
FALLING IN LOVE - "Just A Kiss" by Lady Antebellum
BREAKING UP - "Starts with Goodbye" by Carrie Underwood
PROM NIGHT - "All I Need" by Within Temptation
GRADUATION - "Saturday Love" by Angels and Airwaves
DAILY LIFE - "Valkyrie Missile" by Angels and Airwaves
MENTAL BREAKDOWN - "Wanted Dead or Alive" by Bon Jovi
DRIVING - "Rock of Ages" by Def Leppard
FLASHBACK - "Shove" by Angels and Airwaves
GETTING MARRIED - "Marry Me" by Train
MAKING LOVE - "Smell of Desire" by Enigma
PREGNANCY - "The Adventure" by Angels and Airwaves
BIRTH OF CHILD - "Return to Innocence" by Enigma
HAPPY FAMILY - "Epic Holiday" by Angels and Airwaves
FUNERAL - "Silent Lucidity" by Queensryche
ENDING CREDITS - "Letters to God, Part II" by Angels and Airwaves
Bella Swan and Edward Cullen...Love or lust? My thoughts on their relationship...
Edward and Bella's relationship is, without a single doubt, very unhealthy. Why? Well, it is almost entirely based on lust. Bella's scent was too good to be true for Edward when they first met, and Bella wanted him for his "good-looking appearance". In
New Moon,
Bella is severely depressed after Edward breaks up with her. But, this is not because she is deeply in love with him. According to Wikipedia, the most common signs of victimization are:
depression
behavioral problems
poor social skills
lack of close peer relationships
difficulties in academic performance
low school engagement
undermined feelings of competence
occasional distress
Bella showed almost all of those signs, which is just proof that her relationship with Edward was abusive. You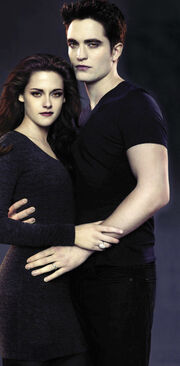 might be saying, "Edward is
not
abusive! He loves Bella!" But, just look at the facts. Edward orders Bella around, keeps her from seeing Jacob, going as far as messing with her truck, and the list goes on. The Guide of Domestic Violence and Abuse asks the following:
Does your partner:
have a bad and unpredictable temper? (Yes. He was tempted to kill those thugs in Port Angeles for attacking Bella.)
hurt you, or threaten to hurt or kill you? (No. Edward didn't do this.)
threaten to take your children away or harm them? (YES. Edward wanted to kill the unborn Renesmee against Bella's will.)
threaten to commit suicide if you leave? (Yes. He said that he would kill himself if Bella left or died.)
force you to have sex? (Nope. Edward is no rapist.)
destroy your belongings? (Edward destroyed a TV in one of his temper tantrums.)
Does your partner:
control where you go or what you do? (Edward screwed with Bella's truck to keep her from seeing Jacob, and bribed Alice with a freaking Porsche in another attempt to do so.)
keep you from seeing your friends or family? (Edward prevented Bella from seeing Jacob several times.)
limit your access to money, the phone, or the car? (Edward messed with Bella's truck to keep her from seeing Jacob.)
constantly check up on you? (Edward did this all the time after learning about Bella spending time with Jacob.)
Just look at the facts: Edward is an abusive boyfriend. He does almost all of those things, and therefore isn't the ideal husband. The worst part of Bella and Edward's relationship is that, given that it is abusive, they got married. One of the main reasons why I believe their relationship is based almost entirely on lust is that they barely got to know one another well enough to fall in love. Edward loves Bella for her scent, while she loves him for sex and immortality.
About my avatars!
My avatars will almost 100% of the time be associated with love. It may be of my favorite TV couples, whether it be Nathan and Haley from One Tree Hill or Romeo and Juliet, for example. Other times, they will be of my role models: Kate Middleton, Taylor Swift, Sharon den Adel, Nina Dobrev, etc. I will rarely use Bella and Edward as my avatar.
Parting is such sweet sorrow, that I shall say good night till it be 'morrow.
Okay, I'll admit it. I love Shakespeare.
I've always been fascinated with Old English and the Elizabethan age, and this all started when I first read
Romeo and Juliet.
I love the Bard's plays, but I prefer his tragedies/dramas - not because I don't like comedy, but because I find drama more interesting.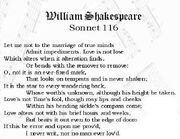 I personally love all of his works, but
Romeo and Juliet
has always stood out to me and always been one of my favorite classics in literature. Is it because it is the story of forbidden love? Is it because it is the ultimate tragedy? Is it because of its story? Yes, yes, yes and yes. I love it for those reasons and plenty more that would take up too much time to list.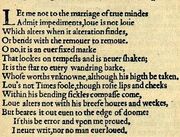 I have also read several of Shakespeare's sonnets.  Most of the time, they are about love and death. I have actually tried my hand on writing my own sonnet, and I may post it here for you guys. May. Shakespeare's sonnets, Let Me Not to the Marriage of True Minds, otherwise known as Sonnet 116, and Shall I Compare Thee to a Summer's Day?, also known as Sonnet 18, are one of my favorites of all 154 of those he wrote.
I have seen the movie Shakespeare in Love, and it is one of my favorite Shakespearean movies. I just love its story of Shakespeare's doomed love affair with the beautiful Viola de Lesseps and how he came to write Romeo and Juliet.
Yes, I am a Shakespeare whore and I'm proud of it.
Signatures
I'll be more than happy to help you make your signature. :) For colors, I use this site.
Books I recommend
House of Night - I love this series. Zoey is such a funny and kickass heroine. I could never put this series down; I recommend it to everyone.
The Fifty Shades Trilogy - Don't even get me started on how much I love this series. E.L. James is such a good writer, in my opinion, but before you go to the bookstore to pick up your copy, you should know that it's an adult book and filled with sexual content.
Nicholas Sparks' novels - I love Nicholas Sparks. He writes such good love stories, and 99.9% of the time, they will tug on your heartstrings.
The Hunger Games - Screw Twilight when you have The Hunger Games. I love its story, the characters, and just about everything about it! READ. IT. NOW.
True Blood - I love the TV show, and you can bet your ass that I love the novels as well. I personally believe the show is better, but that's just me. Don't read this series until you're 18; it's also an adult series.
Vampire Academy - Ohmysweetbabyjesus, I love this series. Richelle Mead is such a great writer!
The Lord of the Rings - Tolkien's masterpiece is one of my all time favorites, and always will be. I went "there and back again" several times, and I plan to do so again.
Harry Potter - I've always loved Harry Potter. I own all the books and movies, and have read the books/seen the movies several times. :)
Virginia Henley's novels - Virginia Henley's novels are the best. She writes historical romance.
12 Shades of Surrender - 12 Shades of Surrender isn't a Fifty Shades spin-off/parody, but rather a collection of erotic novellas. I enjoyed it just as much as Fifty Shades, tbh.
A Song of Ice and Fire - I fucking love this series. I'm a huge fan of the TV show, Game of Thrones, as well. George R.R. Martin = the J.R.R. Tolkien of modern days.
The Last Unicorn - Oh God, I love this book so much. I adored the movie when I was a little kid. So many memories. <3
The Caster Chronicles - This is one of the best fantasy series I've read, tbh. I love Ethan and Lena's romance so much. 
My role models!
My OTPs
Friends on this Wiki!
Teams!
| | |
| --- | --- |
| | This user is on Team Wolf Pack. |
| | |
| --- | --- |
| | This user is on Team Carmen. |
| | |
| --- | --- |
| | This user is on Team Kate. |
| | |
| --- | --- |
| | This user is on Team Eleazar. |
| | |
| --- | --- |
| | This user is on Team Irina. |
| | |
| --- | --- |
| | This user is on Team Jella. |
| | |
| --- | --- |
| | This user is on Team Bedward. |
| | |
| --- | --- |
| | This user is on Team Tanya. |
Fifty Shades and Twilight
I'll be honest with you, I love Fifty Shades and the Twilight Saga (I wouldn't say love for the latter, but I don't give a fuck) but I believe the Fifty Shades trilogy beats the shit out of Twilight. Yes, I am aware the trilogy originated as a Twilight fanfiction but the series are almost nothing alike. The only similarities I see are between Edward Cullen and Christian Grey, both of whom are both very angsty and Anastasia Steele and Bella Swan, who are both shy and awkward.
Fifty Shades, believe it or not, is a love story. Underneath all of Christian and Anastasia's love scenes, there actually is a love story developing. Christian is a very damaged individual who demands control during his affair with Anastasia to protect her given the fact that he didn't have that during his childhood, and she helps him change. Just because they practice BDSM together and he spanks her with a belt upon her request for the sole purpose of showing her what a BDSM relationship with him could be like does not mean their relationship is fucking abusive. As an anon said on Christian's page on the Fifty Shades Wiki:
"A healthy BDSM relationship is all about consent. Christian was constantly reminding Ana that she could stop any scene at any time, and that she could leave at any time. She never did anything that she didn't want to do. In abusive relationships, the person being abused has no control, no power, and little to no power to leave. Abused people can't stop the abuser from hurting them just by saying a safeword. People in the BDSM community are generally very careful to obtain consent, stop when the safeword is said, and play safely so that no actual harm comes to the sub. The relationship described in the book was not abusive in ANY way."
Anastasia and Christian's relationship was not in any way abusive; it was a rather confused one. Compare them to Bella and Edward, and I can guarantee you that you will see no similarities. Bella and Edward's "romance" is based on lust and is all kittens and rainbows and other fuzzy shit, and while Anastasia and Christian were attracted to each other when they first met, their relationship is not based upon lust.
Now, shut the fuck up about the two series being similar because they aren't.
Am I the only who gets a Fifty Shades vibe from this?
*Click the gifs to make them move.
In my opinion, Tom Welling and Erica Durance would make a great Christian and Anastasia. The two of them have chemistry like lightning, and Tom easily can play the dark, angsty and sexy role of Christian Grey. Erica just seems to fit into Anastasia Steele's skin; she just seems like the journalist type (hey, she played Lois Lane in Smallville) and fits the bill perfectly.
Tom and Erica as Christian and Anastasia (in my mind)
If you don't think that Erica and Tom have incredible chemistry, you don't know what chemistry is.
Why I like Fifty Shades
You probably think I'm one of those women who are absolutely obsessed with the series, don't you? Well, I'm not one of them. I am a critical fan of the series. I enjoy it not for its erotic love scenes, but for its story and how Anastasia helped Christian change. I'll admit that I love erotica, but for me, the story matters more than its love scenes.  
Carry on my wayward son!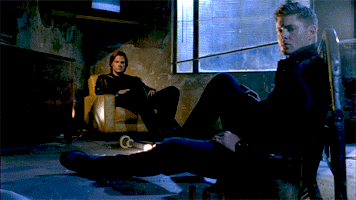 Yes, I am one of them. I absolutely love Supernatural! It has it all: two hot guys, classic rock, blood, sex, violence, etc. You'll be hooked after watching one episode, I'll guarantee you.
My thoughts on the main characters
Dean Winchester
Oh my God, I'm so in love with Dean it's not even funny. I'll admit it, I have a massive crush on Jensen Ackles. At first, I was indifferent about Dean because he seemed to be "all-hunt" and heartless, tbh. As the show progressed, I grew to love him because of his personality and unwavering devotion to his family. As ruthless as he can be, I fucking love him.
P.S. We both love classic rock. ;D
Sam Winchester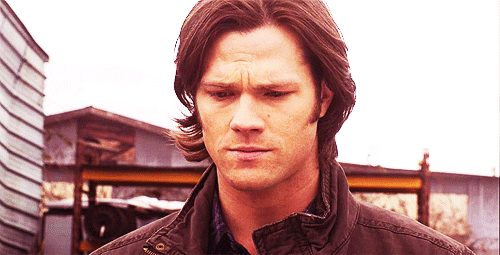 Okay, I'll admit it. I used to be Team Sam before Dean completely won me over. I still like Sam nonetheless. Sam is more emotionally open and rational than his brother Dean, and I respect that. At the same time, I feel bad for him because he lost the love of his life, Jessica, fell in love again with Madison only to lose her, was seduced by a demon, etc.
Castiel
Tbh, I was very indifferent towards Castiel when he first came into the show. He didn't give a fuck for anyone else, save for his father and his brethren. Despite this, I came to like him as he became more and more affiliated with the Winchesters. Hell, he also serves as comedy relief sometimes when Dean isn't making a sex joke, lolol. However, during Season 7, my liking of him lessened. I'm not sure if it is because of his personality after his redemption (I am not giving away any major spoilers), or what.
Bobby Singer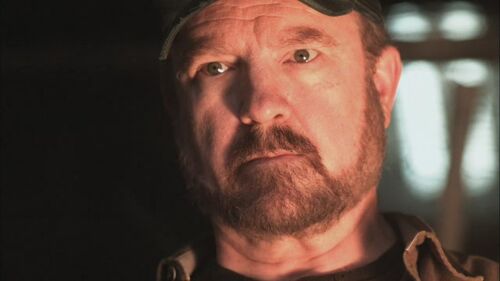 I've always loved Bobby. He was more of a father to Sam and Dean than their own father, John Winchester, ever was. Tbh, I don't ever think there was a time where my linking of him lessened whatsoever.
Favorite fanfics!
God, this story made me cry so fucking much. It's an AU story centered around Sam and Dean struggling to reconcile after Sam shot their father after Azazel possessed him. I felt so bad for Sam the entirety of the story.
This one tugged on my heartstrings so much. Sam is kidnapped by a group of hunters who torture him for six months, and when Dean saves him, he is broken. I wanted to give both of them a hug during this one.
This is just a little oneshot taking place after Sam died in All Hell Breaks Loose, Part 1. I felt so bad for Dean, both in the episode and this fanfic.
Jesus, no fanfic has made me cry so much. This one is Dean's goodbye letter to Sam he writes prior to going to Hell. My heart just melted and broke at the same time.
I melted at this one. It is a tag to the episode Hunted, and it's a really sweet oneshot.
This is a really sweet oneshot, taking place in late Season 7. Dean pours his heart out to Sam about everything, and it tugs at the heartstrings.
This story broke my heart. It takes place directly after Death's Door, and is a take on what we didn't see at the end after Bobby flatlined.
Tbh, this fanfic turned out better than I thought. It's an AU taking place a year after Swan Song.
I have never read a fanfic with as much heart as this one. Sam falls ill, and Dean struggles to cope with the situation. The way it's written and everything about it is beautiful. And you wonder why I love Sam and Dean's relationship.
I felt so bad for Dean and Sam in this one. They're both emotionally exhausted, and Sam is pushed to his limits. It takes place shortly after Abandon All Hope.
Is it possible to rock out to a fanfic? Apparently it is, as I played Bohemian Rhapsody and We Will Rock You on full-blast and belted it out with Sam and Dean when I read this one. I love this one (and Queen) to bits!!
Oh my God, I love this fanfic. It's a tag to Heart; Dean tries to help Sam cope with Madison's death, and in the end, it's really sweet.
This one is so sweet. Sam explains to Dean why he quit hunting after he went to Purgatory, and it's so, so, so heartfelt, oh my god. I love it.
Why I love Sam and Dean's relationship...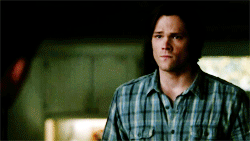 To be perfectly honest with you, I am in love with Sam and Dean's relationship, and for many reasons:
They're always there for each other, no matter how deep the shit they're in is.
They balance each other out: Sam is Dean's voice of reason, and Dean is willing to do what Sam isn't willing to do.
Dean is willing to do anything to keep Sam safe, and vice versa, no matter what the cost. (There needs to be a scene in the show where one of them is crying, and the other lets him cry on his shoulder. *side-eyes the show's writers*)
Non-Wincest fanfiction makes them 10000000000000x better, mainly hurt/comfort fanfiction.
They're each other's family, in every sense of the fucking word.
They've both been to Hell and back for each other, both literally and figuratively.
After all they've been through, they are each other's lifeline.
Dean is an awesome big brother.
Protecting Sam is second nature for Dean, and vice versa.
Their bond is beautiful.
They fool around with each other.
They are almost always honest with each other, even if the truth hurts.
They understand one another.
Dean is Sam's mother, father, protector, etc., all in one, and I love him for that.
etc.
Songs that fit/describe their relationship...
"War" by Poets of the Fall - "When I thought that I fought this war alone, you were there by my side, on the front line. And we thought to believe the impossible. When I thought that I fought this war alone, we were one with our destinies entwined. When I thought that I fought without a cause, you gave me a reason why." This song practically screams their relationship. Every fucking time, it makes me think of them.
"My Immortal" by Evanescence - Don't even get me started on how much I love this song. "When you cried I'd wipe away all of your tears. When you'd scream I'd fight away all of your fears and I held your hand through all of these years. But you still have all of me." Just think about it: Dean reflecting on his love for Sam after he was killed by Jake and/or after he jumped into the Cage with Michael and Lucifer.
"Dreaming Wide Awake" by Poets of the Fall - "Another place and time, without a warning sign and we could be dying angel style. I'll sell my soul to dream you wide awake. I'll dream you... wide awake." I don't need to explain, do I? This song easily portrays either brother's feelings after the other one is dead.
"Where Is The Edge?" by Within Temptation - The entire song describes Dean's feelings about Sam and his demon blood addiction in Season 4. Need I go on?
"Man's Road" by America - I really don't need to explain this one. The lyrics describe Sam and Dean's feelings about their life, hunting, everything.
"Running Up That Hill" by Placebo - The entire fucking song.
"Heal My Wounds" by Poets of the Fall - This song fits the brothers' feelings about the hunting lifestyle and all the people they've lost along the way.
"Running Out of Time" by Poets of the Fall - Oh my God, this song is amazing. The lyrics to this song completely fit Sam and Dean's despair in various points of the series.
"Skin" by Poets of the Fall - This song easily describes Sam and Dean's deep love for each other. The end.
"Never Let Me Go" by Florence + The Machine - This is their reunion song; the lyrics and everything fit them so perfectly.
"No Light, No Light" by Florence + The Machine - The end.
Jensen Flawless Ackles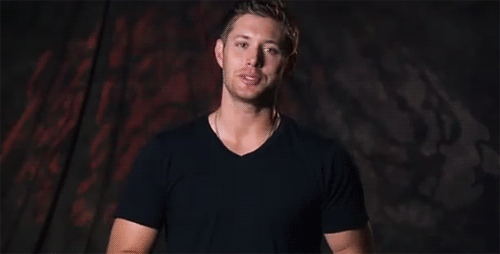 Jensen Ross Ackles...god, I love him to bits. He is incredibly down to earth, and he doesn't let his fame gets to his head. He is a fucking incredible actor, one hell of a comedian,
and
he can sing; he has a song on Steve Carlson's album,
Sharing The Covers,
called
"Angeles"
and it is fucking beautiful. I can't see anyone else as Dean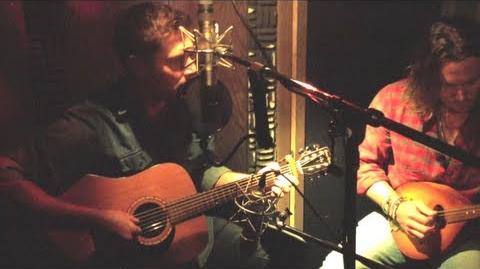 Winchester, to be perfectly honest with you.
Tbh, although I am happily married, I'm jealous of his wife Danneel Harris (no, I wouldn't give up my husband for anything, thank you). If I could spend a day with any celebrity, it would be Jensen. Jensen is [obviously] an amazing guy, and every/anyone who personally knows him is one lucky whore. I look up to him and admire him so much it's not even funny. Fuck, I love everything about him.
(I love you and your work. Keep it up! <3)
Jensen and Danneel, baby!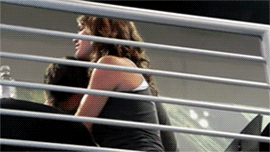 "There are just certain things that turn my head. It may be a girl's sense of humor, it may be her wit, or her belief system; it could be a lot of different things."

―Jensen Ackles
Of all of the celebrity couples that I love, Jensen and Danneel are definitely one of them. They were in the movie
Ten Inch Hero
, and I swear to God, you could literally feel the chemistry between the two. Their chemistry is
fucking amazing. I love how when Jensen talks about her, he blushes and laughs a bit more. <3 If anything, their kids would be absolutely
gorgeous.
Jensen and Danneel are such a beautiful couple, oh my god. I'd love it if she joined the cast on
Supernatural
as a love interest for Dean, and I am not kidding you. It'd be fabulous to see a reel romance between these two lovebirds on
Supernatural
and maybe some other shows they might participate in.
(Danneel, Jensen, I wish you guys many long and happy years together!)
Poets of the Fall, the musical gods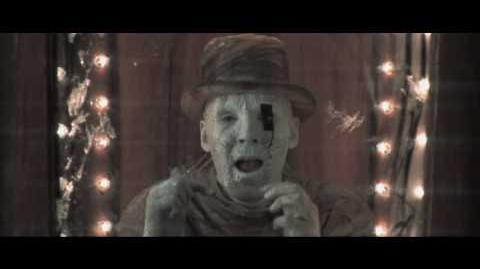 their music - I have their three best albums in full on my phone:
Alchemy: Volume 1, Twilight Theater
and
Temple of Thought.
It's not that I hate their original stuff, though. I love them nonetheless. I first came across them when I was first playing
Alan Wake
; their song "War" was featured in the game and I fell in love with it. Ever since, I've been a proud Fallen Poet, or whatever the hell it is their fans call themselves. I love them so fucking much. Now, why the hell are you still here reading this? Get listening!
The Duke and Duchess of Cambridge
Yes, them. I'll admit, I am a royal follower. I have been ever since William and Catherine announced their engagement. I love and admire them so much, and for many reasons. These are some of them: 
William doesn't let the fame get to his head, and his wife treats him like any other woman would treat her husband. 
They support a good cause. 
Their relationship is real, unlike that of Diana and Charles.
They are both very down-to-earth. 
They are gorgeous together. 
They just fit. 
Kate's boldness. Not very many people (commoners) would pursue a relationship with royalty without wanting fame + fortune. Kate wanted none of that when she and William began their relationship. 
etc.
I have to admit, of all of the married couples out there, the Duke and Duchess are among one of the most unique. After all, it isn't everyday a prince and a commoner fall in love. 
The End
"I will not say: do not weep; for not all tears are an evil."

―J.R.R. Tolkien