thumb|300px|rightthumb|326px|left
About me and this blog.. Especially to Xavier's and Robert's fan!
huge fans of Riley Biers(Xavier Samuel), Edward Cullen(Robert Pattinson )
lets hear a talk of Ashley Greene and Xavier Samuel.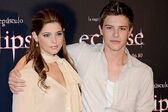 2nd Antagonist-Riley Biers
My favorite pages
Edit

Twilight Saga : Eclipse
Riley Biers( Xavier Samuel ) with Alice Cullen ( Ashley Greene )
RILEY'S MISSING.. Riley just went out from a bar.. he was on his way home.Suddenly something disturb him.. "who's there?" Spining around searching for someone. As he gets scared, he ran and ran until there's no way to escape."what do you want?!!". Something bite his hand and he fell down..Screaming as it hurt much. A year later, his parents looked for him since he was missing at seattle a year ago with Charlie's help.