Advanced mindpower
Advanced mindpower can: move things, Give electric shock/freeze and burn up things/people and animals, read minds/give thoughts to touch the face to the people (you do not need to touch people to hypnotize), reading emotions/controlling emotions, find facts about people and find people. Ralph Geolomin is the only as have this power.
Ralph
Personality
Kind, helpful and almost as good as Marcus (before Didyme died, was Marcus very kind. So if Ralph had lived then, had he not been kinder to a Marcus. But when Ralph was born, was Didyme death. And when Didyme died, Marcus stricter on the rules. And it did so that he was also a little meaner. So now Ralph kinder than Marcus. But it was not until he Didyme died.).
His education is bodyguard. He is not mentioned in any of the movies or books. If you look closely at both New Moon and Breaking Dawn movies, you can see a figure standing / go to right-back for Marcus. It's Ralph.  Ralph did not want to drink human blood, but does it because he is in the Volturi clan. He has at least blood thirsty in the Twilight saga. He has even less blood thirsty than Carlisle Cullen and Denali coven. He was the first who found that vegetarians fail to stop to drink them as well because they are tempted of of human blood if they have been living on animal blood for a long time. But Ralph lives on human blood, so he can control himself them. He kills only culprit. The first persons he killed was his parents. He killed his parents because they mistreated him, other children and other adults. But for the most part is it Heidi or any other of Volturi which provides blood to him.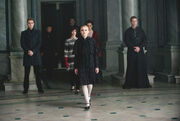 Appearances'