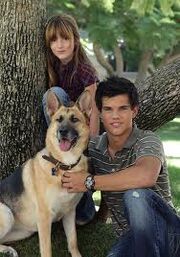 Right then! A profile page on the Twilight Wiki! Whoop! I don't know what to say...
Ah well, i'll probably add more words in general to this profile thing of mine when i'm really really bored!
I love the Twilight series! New Moon is my favourite..i think....and Breaking Dawn....didn't think much of the film B/D though :(
If i add something on any of the articles on this (AWESOME) Wiki that you think is incorrect, then please let me know! I am a perfectionist and hate to see anything wrong of mine falling below par. Like this profile page.
WHAT THE EDWARD AM I SAYING?
One more thing....I love writing! I have written fan fictions about twilight and ahhhh! Renesmee and Jacob are the best! The whole imprinting is adorable!
Love yo faces!
Lee Combe xx
Ahem....! This is for people who LOVE Jacob and Renesmee.
A few light and fluffy pictures of my favourite Twilight pairing!!!! I have no idea of how these pictures are going to turn out, but...just go along with it! hehe!

I HAVE NO IDEA IS THIS IS GOING TO WORK!
Teams!
| | |
| --- | --- |
| | This user is on Team Jacob. |
| | |
| --- | --- |
| | This user is on Team Edward. |
| | |
| --- | --- |
| | This user is on Team Alice. |
| | |
| --- | --- |
| | This user is on Team Neutral. |
| | |
| --- | --- |
| | This user is on Team Switzerland. |
| | |
| --- | --- |
| | This user is on Team Bella. |
| | |
| --- | --- |
| | This user is on Team Rosalie. |
| | |
| --- | --- |
| | This user is on Team Esme. |
| | |
| --- | --- |
| | This user is on Team Emmett. |
| | |
| --- | --- |
| | This user is on Team Jasper. |
| | |
| --- | --- |
| | This user is on Team Seth. |
| | |
| --- | --- |
| | This user is on Team Volturi. |
| | |
| --- | --- |
| | This user is on Team Tyler's Van. |
| | |
| --- | --- |
| | This user is on Team Victoria. |
| | |
| --- | --- |
| | This user is on Team Carlisle. |
| | |
| --- | --- |
| | This user is on Team Jane. |
| | |
| --- | --- |
| | This user is on Team Renesmee. |
| | |
| --- | --- |
| | This user is on Team Wolf Pack. |
| | |
| --- | --- |
| |  This user is on Team Maria. |
| | |
| --- | --- |
| | This user is on Team Leah. |
| | |
| --- | --- |
| | This user is on Team Charlie. |
| | |
| --- | --- |
| | This user is on Team Billy. |
| | |
| --- | --- |
| | This user is on Team Everyone. |

!!!!!!!!!!!!!!!!!!!!!!!!!!!!!!!!!!!!!!!!!!!!!!!!!! :D :D :D :D