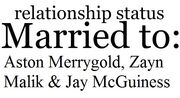 {{{name}}}
Biographical information
Career
.
|name = Viktor Auren |birthname = Viktor Alexander Kristian Auren |born = June 9, 1993 (1993-06-09) (age 22); in Kokkola, Finland |nationality = Finnish |gender = Male |eyes = Dark brown |hair = *Dark brown
|height = 161cm |family = *Carolina Salmela (husband; 2011-present)
Kristian Auren (son)
John Auren (father)
Christina Frank (mother)
William Auren (brother)
Vilhelm Auren (brother)
Alice McWood (stepmother)
Michael McWood (half-brother)
Robert Auren (grandfather)
Elisabet Auren (grandmother)
|alias = *Viktor
Vikke
Mr. Auren
Viktor Auren
Vik
|Occupation = attorney
Hi I'm Lucy Malik McGuiness Merrygold, married to Aston Merrygold, Jay McGuiness and Zayn Malik. Also married to TeamTaycobSoDealWithIt and Ilovestephaniemeyer.
Wanna be my friend or have info that Aston Merrygold wants to meet me, please leave me a message. I love to talk to all of you and I reply to everyone :D
My username
Okay so Pucktana88, I'm sure you've of all heard of glee, a television show about a choir group. The underdogs who overcome hard times like bullying and loss. Anyway I ship Pucktana (Puck/Santana) and 88 is the year the world was blessed with Aston Merrygold!
THREE WAY MARRIAGE BABY!! <3
Okay I'm married to two users on the wiki. TeamTaycobSoDealWithIt and Ilovestephaniemeyer (you got that right, I like em with the long usernames) we have a three way marriage. Although we are all cheating on each other! I'm cheating on them with Aston Merrygold (DUH!) and Zayn Malik. Ilovestephaniemeyer is cheating on us with the whole wolf pack (excluding Jacob) and TeamTaycob has Taylor Lautner. Sometimmes we compare ourselves to the Kardashians. TeamTaycob compares her and Jacob to Khloe and Lamar, Ilovestephaniemeyer compares herself to Rob, CarlaCullen is the Kylie of the family and I compare Aston and I Kourtney and Scott..only my family likes Aston and he isn't a drunk mess in fact the only reason I picked these two is because they love each other well it was Kim and Kris but turned out well didn't it :P
Conflicts, Please Stop!
Okay all this crap about Harry Potter vs. Twilight really bugs me. I mean seriously you can like both or only like the one but keep your opinions to yourself. I like both I just prefer Twilight. Also who made up that The Wanted and JLS are enemies? They're actually really good friends. I love them both but JLS are my ultimate favourite but still The Wanted amazing. This is just an excuse for people to bitch... well knock it off! Lucy Hale, the actress, lost fans for liking Twilight. Grow up. I got glares from a JLSter who for liking The Wanted. Sorry just needed an excuse to rant but I mean every word of that.
JLS
"JLS are just so amazing. Their passion, voice and looks just win me over. The greatness will never expire." - Pucktana88
I love these boys! I only listen to their music and it gives me happiness, soothing and even more love for them(if that's even possible), these are some of my favourite JLS lyrics.
"My sanity is in the passenger seat" - She Makes Me Wanna
"They say that something is not too good to be true, I just hope they aint talking about you" - Eyes Wide Shut
"Still you catch me by surprise, when I look in your eyes when you turn and say that you love me" - Love You More
"You only get one shot so make it count" - One Shot
"The world's a better place in your eyes lovely ey-eeeeeees" - Take A Chance On Me
"Dancing with you is so easy coz you're beautiful" - Do You Feel What I Feel
"Teach me how to dance da-da dance" - Teach Me How To Dance
"I'm coming, I'm coming home coz I really gotta see you tonight" - Go Harder
"I wanna love in 3D, I'm gonna turn you on just like a TV" - 3D
"Be my rock star, chase you like a cop car girl I wanna take you out then take you down. Waii oh baby we can change roles. You can play my lover, I can play yours" - Take You Down
"Those Jack The Lad Swingers NEVER let me down!" - Pucktana88
Tribute to my Boys!
Haters gonna hate
With me JLS is great on any date
Aston is the baby (cutie) of the group and those backflips and dougies are just so special, the boy in blue
Oritse has the best fashion sense and dance moves, he looks so nice and kind, the boy in red
JB has the nicest eyes, they twinkle like the spotlight they are all under, the boy in yellow
Marvin is the BFG in the group, big (muscles), friendly giant(he is the tallest), the boy in green
I'm a proud JLS-ster
They make me happier, than any other
JLS compared to the Twilight books
Twilight - Marvin. Good book, good guy.
New Moon - Oritse. Loved this book the story was so good, had feeling, love and entirely in character like Oritse who is always his loveable self.
Eclipse - Aston. Aint no twilight without Eclipse like aint no JLS without Aston. The book and Aston are hugely enjoyable.
Breaking Dawn - JB. Wow just wow, the thoughts of this book are just like when you see a picture of JB and his girlfriend Chloe, love.