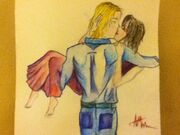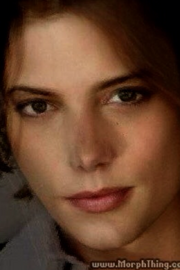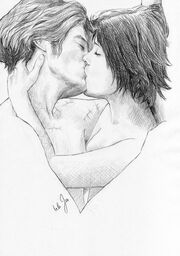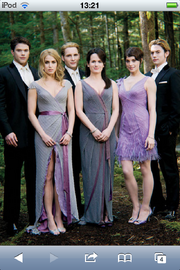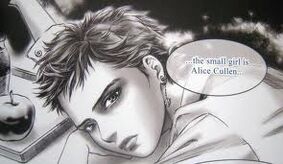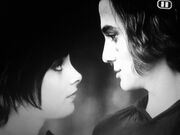 Hi, Well Not sure what to put on this page- It seems to be unlimmited, funny how now I don't know what to say
Well I LOVE twilight, strandly to some I am not a big fan of the three main characters - a lot of peple find that quite wierd. I am a HUGE Jalice fan - the reason I ever found this sight in the first place- one of the few sights that seem to have true information on my fave characters! :D
When I'm not scanning through the internet for more infomation about my favourite characters I am writing as them or drawing them. My drawing skills have improoved sooo much since I started drawing them. A lot of my drawings are part of my stories- some might appear a little strange because of this but it means I can promote my fave stories a lot more.
Template:InfoboxPixieXW
some of my fave pictures are down the side. I love seeing drawings of my favourite couple though I don't have good pictures of the drawings to upload them except the ones I've labeled as my drawings obviously.
My Favourite Quotes from my own stories and from twilight books-the films don't have half the lines the film does! (these are in no particular order)
1) 'Don't you see, it's not me they want- it's the baby and they know there's only one way to get her' ( a quote from Alice in my story Esperansa- good because of the cliffhanger)
2)' How strongly opposed are you to grande theft auto'- it's a classic!
3) 'This suicide stuff is fun'- oh Alice *bangs head on wall*
4)' You held out your hand and I took it without stoppin to make sense of what I was doing. For the first time in almost a century I felt hope' you have to admit we never thought we'd hear Jazzy say something so beautiful.
5) 'She's , she's so real'- again from my own story Esperansa and so's the next one
6) ' I held the wrinkled pink child into my chest and smiled, not caring that she wailed profoundly or that I had Alice's bloof up to my elbows. She was real, she was so unreal. I had a baby, we had a baby we had made her and watched her grow and now she was here in my arms.' - this line always makes me cry!!
7) I think she's having hysterics. Maybe you should slap her'- another bang head on wall moment.
8)' I still new very little of why I wanted to find him. It was like something held me to him, like my heart could not escape the pull of me to him.' a moment from another story A Life Worth Dying For
9) ' You. Got. Food. In.My. Hair' - ahh Rosalie and Jacob- definatly a way to be cheered up
10) 'you truly are one frightening little monster.' - like most times Jasper uses humor there's two ways to look at that- the litteral form and the more distinctly male version.
This is my song list of the songs that make me think of Alice and Jaspers relationship (in no particular order- took me ages to pic just ten!)
1) Crawl by Chris Brown- I see Alice singing this to Jasper in a particular moment in A Life Worth Dying For but could also be used for encouragment after a slip up on his part.
2) I'm Only Me When I'm With You by Taylor Swift- Alice again- it just shows the sweet careless side of their relationship.
3) To Love Again by Alesha Dixon - Jasper sings this one and it's too Alice at the beginning of their relatioship when his past 'love' for Maria is still in his mind
4) A Moment Like This by Leona Lewis- Alice (if you listen to the words that's obvious) it could be their first kiss but I always picture a more intimte first...
5) Suddenly I See by KT Tunstall- Alice and Jasper (she does the chorus he does the verses) the title says it all
6) When You Say Nothing At All by Ronan Keating - Jasper sings it, it just shows their relatioship so well.
7) Teenage Dream by Boyce Avenue- by Jasper again this version is them entierly
8) Arms by Christina Perri- Jasper- this is set when he has just realise he loves Alice- but inside thinks he shouldn't
9) Just The Way You Are by Bruno Mars- Jasper- The first time he sees all of her she is very self-concious and hates how she looks- he shows her the type of beauty she's show him allready- so it could go both ways I guess
10) She's Always A Woman by Fyfe Dangerfield- Jasper again it describes Alice sooo well!
For those who after reading the quotes want to read my stories- Which I'd appreciate a lot! hopefully this link works!
This is another little poem I wrote- Jasper wrote it again ( I didn't realise he had so much stuff before!)
Black- the raven feathery hair that glitters with the care it has, short like the sweet-smelling grass of early summer, with the scent of light Roses or freesias. The misleading darkness, a solar eclipse. The magic stolen by the black.
Purple- rich and welcoming, the color of her best clothes, a show she puts on. THAT dress, The baby lilac of the rose in her hair and the winter pansies inside the window as protection from the cold. The color of the sky the night our souls met.
Red- the devils color, the color of her irises those months after. Her unforgettable mistake. The crimson of life, the life she cares for even in their diminutive state. She loved them all.
Yellow- her favourite, the color of the sunshine,The warmth brought upon the world, both far away and near. The meanings of her smile and the one way of always being faster.
Blue-calm and soft, uncharacteristically gentle, never a monster, no matter what happens. The bright fish and a heart shaped rock. I give you my heart. The dancing of waves and their White horses as free as the wind and just as untameable.
Green- the sighns of new life; every life is special and theres a chance for us all out here. optimism. Never giving up on anything or anyone. There's always a second chance.
White- the snow on that day. Significant to her physical state. The lies her wedding dress told.
I never knew love could be as magical as this.
White- the color of her skin as she lies there, only alive in spirit. White the color of this cold room, of hospitals and a lack of hope, she's still in there somewhere.
Pink- the color of her soft lips, those I so long to touch. The color of her toenails, decorated by her siblings to keep the light alive.
The colors may not be in this room and they may never be again but you keep fighting, my dear. The only color found here is the color in your heart, a color that cannot be wiped out. The color like a searing flame, fighting off the dark. The colors of your world the ones deep within that I so long to see again.
I build this mental rainbow and know it must be true that in there somewhere is mystery and welcome, care and softness and warmth, life and love.
Black, purple, red, blue, yellow, green and White. The world that keeps you as you are, the rainbow that glows on.
No one point and no one stare and maybe, just maybe she'll stay.
Its a sad moment in his life- he doesn't know if the reason he lives will survive!
Some other stuff about me that isn't all twilight related
1) I LOVE animals I have- as in me not my family rescued six pets, four guinea pigs- the girls were (R.I.P) Salt and Pepper and the boys are Blizard and Storm and also two mice Millie and Molly. I also have a dog- a golden labrodor called coorie and my dad's goldfish Jeremy and Richard (James died) and I go horse riding!! I would love a horse but they cost WAY too much.
2) I love music- I play the guitar and it's one of my favourite ways of getting the bad stuff out of my mind. I've wrote a song before but it's not that great.
3) I love to act- Becoming someone else is how I write and I love it! Ever since I was litte I've enjoyed being someone else. I've only ever done a few smaller things on stage but I'm pretty sure my best friend can go all the way in an acting career she is AMAZING!!
4) I am a big Ashley Greene fan- I think she's an inspirational Actress, it mustn't have been easy to- at seventeen- leave your entire life behind and travel miles away to have a chance at the job she wanted. Unlike so mny of us she saw the chance and actually took it!
5) I am slightly pyschic- but no where near Alice's standard I have a dream almost every night about something that will happen the next day- normally it's just something small but still. I occasionally get strong feelings towards an event and have met two ghosts in my life- one when I was only a baby. I know a lot of people don't believe in this stuff but that's up to you.