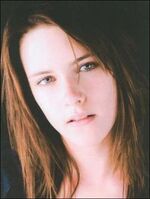 Isabella Marie Cullen, née Swan, is a fictional character from the Twilight Saga by Stephenie Meyer. The series is told from Bella's point of view, with the exception of the epilogue of Eclipse and the series' upcoming companion novel, Midnight Sun as well as the second book contained in Breaking Dawn.

"Are you going to tell me how you stopped the van?"
"Yeah. Um...I had an adrenaline rush. It's very common. You can Google it."
- Bella Swan and Edward Cullen