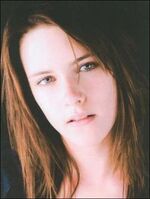 Isabella Marie Cullen, née Swan, is a fictional character from the Twilight Saga by Stephenie Meyer. The series is told from Bella's point of view, with the exception of the epilogue of Eclipse and the series' upcoming companion novel, Midnight Sun as well as the second book contained in Breaking Dawn.

"About three things I was absolutely positive.
First, Edward was a vampire.
Second, there was a part of him - and I didn't know how potent that part might be - that thirsted for my blood.
And third, I was unconditionally and irrevocably in love with him."