Twilight is what i love most. My favourite character is Edward C
ullen and Emmett Cullen.
Edward: The most gorgeous guy to ever walk the earth. Just simply amazing.
Emmett: A classic muscley bloke. and a cute one too.
Alice: That gorgeous pixie-like girl who always seems bubbly and can see the future. And when it comes to Bella's birthday, graduation party and wedding, Alice has to plan everything!!
Rose: The beautiful blonde who helps Bella throughout her pregnantcy and looks after Edward and Bella's baby daughter.
Jasper: That amazing male blonde vampire that can control you're emotions when you worry about things. (such as Bella)
Bella: Edward's wife who later discovers she is pregnant. But comes back as a pretty good-looking vampire.
Renesmee (Nessie): That gorgeous little girl that Bella gave birth too grows incredably fast.
Esme and Carlisle: without these vampires, there wouldn't be an olympic coven. it works well whwn you have a doctor in the house.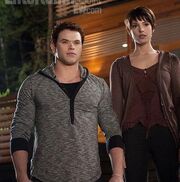 My favorite pagesEdit