My name is Sherainne Casinto. 
I really hate twilight at first. Well i hate it because there are vampires and im not really in to them. Like, why would they make a movie about supernatural bloodsuckers and others that does'nt even make any sense, and whats wrong with this people?!, dying to watch this and was like, AAHHH!! TWILIGHTTT!!, IM TEAM EDWARD, TEAM JACOB! 
Even my mom was one of those crazy people, who loves twilight, who loves jacob, and acts like she was a 5 year old believing on santa clause , and its like, totally driving me crazy!!  I always argue with her, saying that twilight sucks, a really stupid movie. (though i havent watch it, just the trailers, and some stories from my mom who keeps gagging about it). I even say that it really have bad, uninteresting characters. Especially Edward.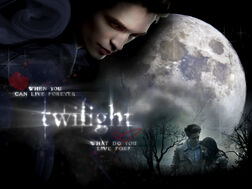 Saying he's totally ugly, weird, and disgusting. I mean,how is it that a very old guy (108 years old), that sneek up to you every night just to watch you sleep, and then tells you it facinated him, the most romantic thing?!. (well its kinda more irritating). And wondering how small Bella's brain is that she didnt stay away from a monster that could suck her life out. Is she mad?!
Then one night, we watched a movie titled "Vampire Sucks" a parody of twilight, and that movie just like hit me, inspiring me to watch the real twilight. Though, its really funny, it got me curious and was like, did this really happened? how did they come up with that?. is edward really this hot? (i tell you, edward in Vampire Sucks is incrediby hot) Then since that night, i dreamed of Edward, so sweet, gentle, most of all beautiful. I cant take it anymore, so i watched it, and for the first time that he appeared in the movie twilight, where he come after his brothers and sisters in the cafteria, i was like BOOM!!, and feels like i was drooling..? and like, why am i calling this amazingly beautiful, hot guy, unattractive, ugly or whatsoever?. i think he's the hottest man i ever saw in my life! (i guess??) id fallen in love with him. I cant take him out of my mind. I'd watched it for always several time a week, even getting my self memorized their dialogues. I feel uncomfortable or incomplete a few days after without watching twilight, reading the twilight books, or by just loosing a slight connection of my twilight world. I always want it.
And thats it. Since that day, October 25, 2012, i became a huge fan, and was like it made me complete!
But the worst part is, i get to be a fan, the moment when there is only one movie (breakind dawn part 2) left that i would be supporting, knowing this will be the epic finale!! and the last 4 movies, i wasn't there to appreciate the wonerful world that Stephanie Meyer created. Instead, go against it.. ugh how stupid was i.!!
But even if it was like that, i love Edward Cullen, madly inlove with him,, ill support twilight forever, ill always love it, and nobody can change that.
About me
I became a huge Twilight fan last October 25,2012
Im really a huge fan of Twilight!
Madly inlove with Eward Cullen
I escpecially love the Twilight, BDP1 and BDP2 movies
Love all the twilight books.
Loves to draw, play guitar.
Here's my Gallery: