Hi My name is Mr_Z I'm not allowed to put up a picture (of myself) or my real name on this page for security reasons (my family has been hit with identity theft before).
My Hobbies include Guitar, Tae Kwon Do (martial art), Art, Chinese Caligraphy, Knitting, Crocheting, Cooking, Gardening, retouching photos with photoshop (for entertainment only, no malicious intent) and Making my own stuffed (not taxidermied) animals.
I love animals (cats especially) and I want to be in vetrenary medicine when I get older. I have a big family very close and 2 cats one dog and a lot of fish. I also love the great outdoors and all the creatures in it, and of course I love Twilight (I am Team Edward) and reading! I have the first three books in paperback Breaking Dawn on pre-order from Amazon and I'm going to pre-order the guide when I get a little more money, and The Short Second Life of Bree Tanner when that comes out in paperback.
That's pretty much it about me.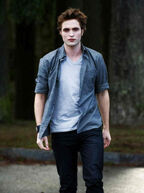 Mr Z 21:00, April 16, 2010 (UTC)Mr_Z Pictures of my favorite Characters -->