Hi! My name's Al! (I will mention my real name only if I deem you close.) Hope we can be great friends and enjoy what we both love - Twilight! Template:Infobox
My favorite characters
Edit
Jasper Hale
Edit
Ah yes. I love him. Why? He's loyal, brave and has a difficult past. Alice found him and things got better. My Lord I love those two - Screw Edward and Bella! His ability to control moods is kinda cool though. And he really kick-butt, Edward can jump off a cliff along with Bella. And Jasper is super hot!! And he almost killed Bella *swoons*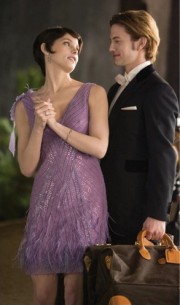 Rosalie Hale
Edit
Everyone hates on her because she's rude, nasty and wants to be a human. Why people? She wanted to be like everyone else - grow up, get married and have kids. She had dreams (unlike Mary Sue, I-I mean Bella Swan). But her fiance had to beat and violate her and Carlisle turned her. Ouch, thanks a lot Carls. And she despises Bella - well who likes Bella?
Seth Clearwater
Edit
To me, he brings a positive impact to the pack. And he looks up to Jake - Awwz. Whoever hates him are heartless perverts! He's such a sweetheart. Whoever gets him as a boyfriend is one lucky girl. If she breaks his heart I'm coming and killing her.
She had a crush on Edward ok.... But I don't think she should be jealous of Bella. She deserves someone better than that stalker. She's been through so much. She's an independant woman and doesn't belong to anyone. That's the good thing about being single.
Fearless and fierce. I like tough chicks and she's that. She doesn't take crap from anyone considering what happened to her mother (and sister).
And everyone hates on her because she snitched on the Cullens. Look at it in another way. Why wasn't Bella and Jacob more careful? Don't they realize that Renesmee resembles an immortal child? Geez, don't they learn from their mistakes like everyone else? I'm sure Tanya and Kate did.
I loved Diego! He was so sweet and kind and everything I'd want in a guy! He and Bree are a thousands times better than Edward and Bella! (And my second favorite couple in twilight) DARN IT! RILEY, YOU LOST A THOUSAND AWESOME POINTS FOR WHAT YOU DID TO MY BABY DIEGO! JUST GET YOUR HEAD RIPPED OFF BY SETH OR SOMEONE! THAT'S RIGHT! GOOD BOY! Ah, well, I find it stupid that SMeyer lets awesome characters like Bree and Diego perish and lets the boring Mary Sue live the life she doesn't deserve. *coughs*BELLA*coughs*
Jacob Black
Edit
That guy deserves hugs and kisses more than everyone else here. His heart has been stomped on by a whore and he imprinted on Satan's spawn (Renesmee). The only problem I have with him is that he loved Bella. When I hear the song 'Grenade' by Bruno Mars it reminds me of him. Poor guy!
Leah Clearwater
Edit
Everyone hates on her because she's obnoxious. Think again. Her father dies, which causes her to phase, her boyfriend imprints on her cousin, leaving her heartbroken and she has to share her thoughts with him. No wonder. Jacob and Leah would've made one mind-blowing couple. Their hearts were broken by someone else (Sam really had no choice, so he's okay but Mary I-I mean Bella had a choice, but she chooses the stalker, how nice.) If Smeyer had really love Jacob, she would've let him end up with Leah but instead he imprints on Re-name-sse. I'd like Leah to fall in love NOT imprint on a guy - who would love and respect her for who she is. You can do it Lee!
Teams I'm in
Edit
| | |
| --- | --- |
| | This user is on Team Jasper. |
| | |
| --- | --- |
| | This user is on Team Seth. |
| | |
| --- | --- |
| | This user is on Team Rosalie. |
| | |
| --- | --- |
| | This user is on Team Tanya. |
| | |
| --- | --- |
| | This user is on Team Kate. |
| | |
| --- | --- |
| | This user is on Team Carmen. |
| | |
| --- | --- |
| | This user is on Team Irina. |
| | |
| --- | --- |
| | This user is on Team Jacob. |
| | |
| --- | --- |
| | This user is on Team Leah. |
Facts about me.
Edit
-I'm a big fan of Jasper.
-I eat a lot but I'm active.
-I talk in my sleep. That's the ONLY similarity I share with Bella!
-I like to sing but I can't.
-I'm more a guy than a girl.
-My second favorite vampire is Kate and my favorite coven is the Denalis.
-I'm tall of my page.
-I suck at Maths.
-I love chocolate!
-I'm short-tempered but really nice.
-I want to be an Author someday.
Acknowledgements!
Edit
I tell you from now if you pick on these guys or be mean to them, not only you'll have me as an enemy but quite a few!
User:TeamTaycobSoDealWithIt - She's kind and thinks my name is cool (my real name)
User:Bellscullen - Who wouldn't like this girl?
User:JasperandDamonhottestvamps - my sis. Team Jasper!
User:Alicehale.jasper - She's a sweetheart.
User:Love and Lust - True Love is real. I learned that from her (from not Bedward)
User:Imataycobsobettergetusedtoit - We have A LOT in common! She's fun to be around!
Basic Questions on Twilight
Edit
Team Edward or Team Jacob? - Considering that Edward is a stalker and treats Bella like crap, Team Jacob.
Emmett or Jasper - Why?! Both!
Which book in the series is your favourite? - Eclipse
Who do you want to see Bella with most: Edward or Jacob? - Edward. Jacob deserves better. Even better than Renesmee.
Bella or Edward? - Edward.
Bella or Jacob? - Jacob.
Bella or Alice? - Alice.
Bella or Rosalie? - Rosalie FULL STOP.
Jasper or Edward? - JASPER!!!
Carlisle or Esme? - Both.
Jacob or Sam? - Both.
Leah or Emily? - Both. Emily is a sweetheart and Leah is freakin' amazing.
Reasons why I hate Bella.
Edit
Let me give you a scoup on why I hate Bella:
She's an anti-feminist character.
She uses Jacob.
She lets Edward treat her like crap.
She's whiny and a hyprocrite.
She treats the humans (including her OWN FATHER) like dirt.
She dates a guy who her father can't stand.
She's horrible at naming children (Edward Jacob and Renesmee? The heck?!)
Violet Baudelaire from A Series of Unfortunate Events and Luna Lovegood from Harry Potter can kick her butt in a wink!
She's flat and obssesive. She relies on guys too much.
Her whole life is about Edward.
She kisses Jacob and THEN gets engaged to Edward!
She takes long to get over a guy.
Guys flock over her EVEN THOUGH Alice and Rosalie - who are WAY more beautiful than her - are there.
She allows Edward to keep her away from Jacob. THAT IS NOT HOW LOVE WORKS!!!
She quickly judges Kim as 'plain'. (HYPROCRITE!)
She doesn't mind being stalked! (The fudge?!)
She's shallow.
She was willing to give all the important things in life. (college, job etc) No wonder why Rosalie hates her.
-There are many more reasons but let's just stick with this. If you want how Bedward is abusive, here look at Savannah's (Love and Lust) views: http://twilightsaga.wikia.com/wiki/User:Love_and_Lust#Bella_Swan_and_Edward_Cullen...Love_or_lust.3F_My_thoughts_on_their_relationship...
That chick read my mind!