"AND SO THE LION FELL IN LOVE WITH THE LAMB.WHAT A STUPID LAMB.WHAT A SICK MASOTISTIC LION."

―BELLA AND EDWARD
BELLA SWAN
Edit
AGE:17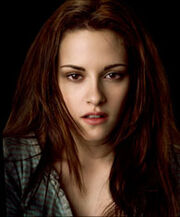 ATTENDS: FORKS HIGH SCHOOL
BELLA COMES TO FORKS AFTER HER MOTHER GETS REMARRIED. SHE MOVED IN WITH HER FATHER SO THAT HER MOTHER WOULD BE ABLE TO TRAVEL WITH HER STEP FATHER. AT FIRST FORKS WAS , AS SHE PUT IT HER " HELL ON EARTH". THAT IS UNTIL THE CULLENS CAME INTO THE PICTURE. AFTER SEEING EDWARD CULLEN FOR THE FIRST TIME, BELLA BECOMES MORE CURIOUS AS TO THE THINGS THAT ARE EITHER CAUSED OR HAPPEN AROUND HIM. AFTER DOING RESEARCH SHE DISCOVERS WHAT HE AND HIS FAMILY REALLY ARE.
" OF THREE THINGS I'M ABSOULTELY SURE OF. FIRST EDWARD WAS A VAMPIRE. SECOND, THERE WAS A PART , AND I DIDN'T KNOW HOW DOMINATE THAT PART WAS THAT THIRSTED FOR MY BLOOD. AND THIRD, I WAS UNCONDITIONALLY AND IRREVOCABLY IN LOVE WITH HIM." - BELLA SWAN ,TWILGHT
EDWARD CULLEN
Edit
BORN : JUNE 20, 1901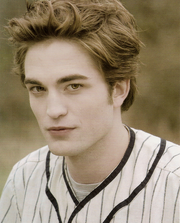 TRANSFORMED:1918
ATTENDS:FORKS HIGHSCHOOL
EDWARD CULLEN IS ONE OF DR. CULLENS FOUR FOSTER CHILDREN.OUT OF THE SIX IN THE COVEN EDWARD IS ONE OF THE ONLY THREE TO HAVE A SPEACIAL ABILITY WHICH IS TO READ MINDS,EVERYONES EXCEPT BELLA'S. WHEN MEETING BELLA THIS IS ONE OF THE THINGS THAT FIRST ATTRACTS HIM ALONG WITH HER SMELL. AT FIRST IT WAS HARD FOR HIM TO DEAL WITH BEING AROUND HER BUT IT DIDIN'T TAKE LONG FOR HIM TO REALIZE HIS FEELINGS FOR HER.
" AND SO THE LION FELL IN LOVE WITH THE LAMB."- EDWARD CULLEN, TWILIGHT, PG 274
JACOB BLACK
Edit
AGE :16
JACOB IS BELLA'S BEST FRIEND. HE IS INTRODUCED IN THE FIRST BOOK WHEN BELLA IS TRYING TO FIGURE OUT THE TRUTH ABOUT EDWARD. AT THAT POINT JACOB DIDNT THINK MUCH OF IT BECAUSE HE DIDN'T BELIEVE IN THE MYTHS. IN NEW MOON AFTER EDWARD LEAVES, BELLA SPENDS ALOT OF TIME WITH JACOB BEFORE HE "CHANGES". AFTER HE TRANSFORMS HE STARTS TO REALIZE THAT THE STORIES WERE MORE THAN JUST THAT. ALSO AFTER EDWARD LEAVES JACOB REALIZES HOW HE FEELS ABOUT BELLA . BELLA REALIZES THIS TOO BUT SHE JUST CAN'T GET OVER EDWARD. AFTER EDWARD RETURNS JACOB JUST REMOVES HIMSELF FROM BELLA'S LIFE JSUT TO SHOW HER THAT "LEECHES AND WOLF CAN'T WORK TOGETHER. BUT AGAIN THAT CHANGES WHNE THEY ARE FORCED TO WORK WITH EACH OTHER TO GET RID OF VICTORIA AND THE NEW BORNS.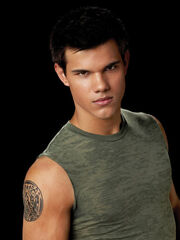 "WHO'S AFRAID OF THE BIG BAD WOLF?" JACOB BLACK ,NEW MOON
ALICE CULLEN
Edit
ALICE IS THE MORE GRACEFUL OF THE CULLENS AND AT FIRST THE ONE WHO ACCEPTS BELLA THE EASIEST, BUT THAT IS BECAUSE OF HER ABILITY TO SEE THE FUTURE. WHEN SHE WAS HUMAN ALICE WAS PUT IN A MENTAL INSTITUTE BECAUSE OF HER VISIONS. IT WAS HERE THAT THE NOMAD JAMES FOUND HER AND CHAGED HER BUT ONCE SHE WAS CHANGED HE LOST INTREST. HAVING NO MEMORY OF HER HUMAN LIFE ALICE SET OUT TO FIND THE PEOPLE SHE FOUND IN HER VISIONS. AT FIRST SHE FOUND JASPER AND THEN TOGETHER THEY FOUND THE CULLENS. WHEN BELLA IS BROUGHT INTO THE FAMILY ALICE AUTOMATICALLY CLICKS WITH HER.
"DON'T YOU LOVE ME?" ALICE CULLEN, ECLISPE
pictures
Edit