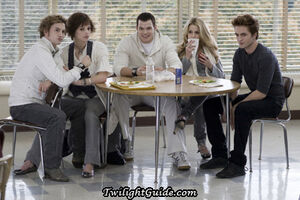 Relate-Able Songs To TwilightEdit
We all do it, we listen to a song and decide instantly, it's perfect!
Either perfect for the couples in the saga, the characters, the journeys, their struggles, their moments, their memories, their feelings, their messages, their problems, or their over all personality-that's why I made this!
So that we could have a page to put songs that have to do with the Twilight Saga! It's for fun guys, if you think it might be a waste of time well-I don't care! It's all about the music Twilighters! Rock On!
Songs For Edward...Edit
Starry Heavens-Day after Tomorrow (Theme of Tales of Symphonia Nintendo Gamecube)
Full Moon-Sonata Arctica
Creep-Radiohead
The Reason-Hoobastank
Iris-Goo Goo Dolls
Here Without You-3 Doors Down
Smile-Uncle Kracker
Vanilla Twilight-Owl City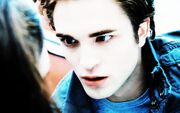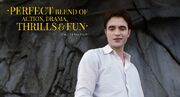 Her Diamonds-Rob Thomas
I Don't Wanna Miss a Thing-Aerosmith
You Sang To Me-Marc Anthony
Goodmorning Beautiful-Tim McGraw
I Wanna-All American Rejects
Gotta Be Somebody-Nickleback
When I'm Gone-3 Doors Down
It's Been A While-Staind
White Demon Love Song-The Killers
On The Way Down-Ryan Cabrera
Better Than Me-Hinder
She's So High Above Me-Everclear
Live Like We're Dying-Kris Allen
Yellow-Coldplay
You Found Me-The Fray
Accidentally In Love-Counting Crows
Forever-Papa Roach
Collide-Howie Day
What's Left of Me-Nick Lachey
Daughters-John Mayer
Fall for You-Second Hand Serenade
New Moon Rising-Wolfmother
(If you guys have any requests, don't hesitate to comment!)
Songs For Bella...Edit
Soshite Boku ni Dekiru Koto-Day After Tomorrow (Theme of Tales of Symphonia PlayStation2)
Starry Heavens-Day after Tomorrow (Theme of Tales of Symphonia Nintendo Gamecube)
Ring a bell-Bonnie Pink (Theme of Tales of Vesperia Xbox360 and Playstation3)
Decode-Paramore
Everywhere-Michelle Branch
My Immortal-Evanescence
Why Can't I-Liz Phair
Everytime We Touch-Cascada
I'm With You-Avril Lavigne
Pieces Of Me-Ashlee Simpson
My Heart Will Go On-Celine Dion
She Falls Asleep-McFly
When You're Gone-Avril Lavigne
Possibility-Lykke Li
Friends-Band Of Skulls
Satellite Heart-Anya Marina
Head Over Feet-Alanis Morissette
Can't Get You Out Of My Head-Kylie Minogue
Meet Me Halfway-Black Eyed Peas
Thank You-Dido
Russian Roulette-Rihanna
I'm Like a Bird-Nelly Furtado
I Love You Always Forever-Donna Lewis
If You Only Knew-Shinedown
Can't Fight The Moonlight-Leann Rimes
As I Lay Me Down-Sophie B. Hawkins

The Little Things-Colbie Caillat
Say It Right-Nelly Furtado
Taking Chances-Celine Dion or Kara Diaguardi
Nothin On You- B.o.B feat Bruno Mars
(All Songs Connected To Bella)
Songs For Jacob...Edit
Full Moon-Sonata Arctica
Mr.Bright Side-The Killers
Two Princes-Spin Doctors
Breakeven-The Script
Who Let The Dogs Out-Baha Men
What Do You Want From Me?-Adam Lambert
She Will Be Loved-Maroon 5
Drops Of Jupiter-Train
Hey Soul Sister-Train
She Is Love-Parachute
21 Guns-Green Day
You're Beautiful-James Blunt
I Got A Feeling-Black Eyed Peas
Stay-SafetySuit
The Real Thing-Bo Bice
I Wanna-All American Rejects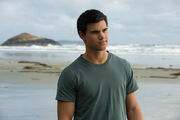 Big Green Tractor-Jason Aldean
My Own Worst Enemy-Lit
Two Is Better Than One-Boys Like Girls
Whatever It Takes-Lifehouse
Facedown-Red Jumpsuit Apparatus
Dare You To Move-Switchfoot
Why Don't You And I-Santana
To Be With You-Mr.Big
Pretty Girl-Sugarcult
Scientists-Colplay
Animal I Have Become-Three Days Grace
Break-Three Days Grace
Forever-Papa Roach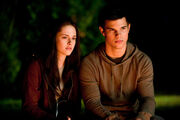 Flake-Jack Johnson
Crash Into Me-Dave Mathews Band
You And Me-Lifehouse
What Goes Around Comes Around-Justin Timberlake
You And I Both-Jason Mraz
(All Songs Are Connected To Jacob)
Songs For Rosalie...Edit
Beauty From Pain-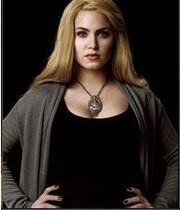 Fighter-Christina Aguilera
Just Like A Pill-Pink
Sober-Pink
Bring Me To Life-Evanescence
Don't Speak-No Doubt
So What-Pink
Who's That Girl-Hilary Duff
All You Wanted-Michelle Branch
Tik Tok-Kesha
Bad Romance-Lady Gaga
Outside-Staind
Kiss From A Rose-Seal
Unbreak My Heart-Toni Braxton
Twilight-Vanessa Carlton
According To You-Orianthi
Starlight-Muse
Cowboy Casanova-Carrie Underwood
So Much For My Happy Ending-Avril Lavigne
Already Gone-Kelly Clarkson
Call Me When Your'e Sober-Evanescence
Love Fool-The Cardigans
Behind These Hazel Eyes-Kelly Clarkson
Since You've Been Gone-Kelly Clarkson
She Will Be loved-Maroon 5
(All Songs Are Connected To Rosalie)
Songs for Alice...Edit
Suddenly I See-KT Tunstall
Drops Of Jupiter-Train
Hey Soul Sister-Train
I'm With You-Avril Lavigne
Alice-Avril Lavigne
I Got A Feeling-Black Eyed Peas
Pieces Of Me-Ashlee Simpson
The Sweetest Thing-U2
Tik Tok-Kesha
She's So High-Tal Bachman
Scientists-Coldplay