My user name is Leah Blackwater because, Blackwater is a combination between Black and Clearwater but minus the Clear. So that's how Blackwater is created! Also I really wanted Jacob to imprint on Leah, but sadly he imprinted on that thing called Renesmee, ew. Everyone else got a happy ending but Leah and it angers me to no extent!

Leah is my favorite character and her sarcasm is HILARIOUS!
---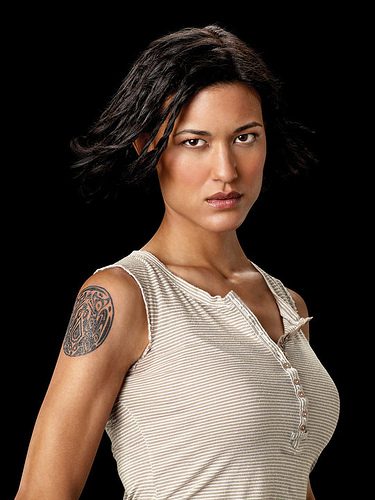 Favorite Leah Clearwater quotes:

"Despite my best efforts, I've seen you naked before – doesn't do much for me, so no worries."
"I wasn't born a compassionless shrew. I used to be sort of nice, you know."
"This is making me sick, Jacob. Can you imagine what this feels like to me? I don't even like Bella Swan. And you've got me grieving over this leech-lover like I'm in love with her, too. Can you see where that might be a little confusing? I dreamed about kissing her last night! What the hell am I supposed to do with that?"
"It's pretty obvious, isn't it? I'm joining your crappy little renegade pack. The vampires' guard dogs."
"That's the funny thing about knowing you can't have something. It makes you desperate."
---
A lil' bit 'bout me
Team Jacob all the way! I run with the wolves! I like sharp objects and anything that would be used as a weapon and someone told me my personality is kind of like Leah's beacause I'm always using sarcasm! Hm, I love screamo music! Escape the Fate 4eva! Let's see I suffer from OTLD (Obsesive Taylor Launter Disorder), OBD (Obsesive Blackwater Disorder). and OJD (Obesesive Jacob Disorder). My empire is built on Anime, Bleach, Naruto, Inuyasha, Azumanga Diaoh! and too many I'm to lazy to name! Let's see, I hate Bella, Edward and the FMS (Freaky Mutant Spawn) AKA Renes-tard-- err Renesmee. I like cheese because its amazing. Also, please don't edit my page (as in REMOVING my pics, changing the word, so on and so fourth). Hmm, since it seems all these damn Team Jacob haters keep deleting my Team Jacob pics, I got a stupid message saying 'Please don't upload fan pics, waaah we're whiney', UGH! Picky bastards, I wonder how to delete these accounts because I'm tired of them deleting pics, I mean they deleted a picture of pikachu, she's a pokemon! Has nothing to DO with Twilight ohmigosh! Ruuuuude! Now Pikachu is crying in her emo, thanks a lot to whoever deleted her picture, now how the hell is she suppose to get famous?
TEAM JACOB! Because Edward sucks (literally and figurtively) and he's ugly :D Be jealous that Jacob is hotter, literally and figurtively.