Stephanie
Biographical information
Born

September 29th, 1925

Alias

Steph

Physical description
Species

Vampyre Half-breed

Gender

Female

Height

5'6

Hair color

Light Brown

Eye color

Blue

Skin color

Fair

Family information
Family members

Skot(brother)

Special characteristics
Abilities

Basic Vampire Abilities

Special abilities

Ability to borrow a gift

Affiliation
Loyalty

Denali Coven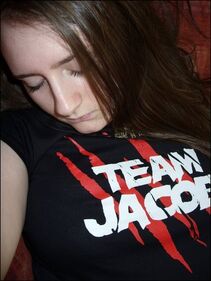 I'm 19 years of age. Ughhh I hate these bits. *scratches head*
Currently unemployed. AHH life as a bum sure is good. Lol! I live in the United Kingdom, in a place called Scotland dunno if you've heard of it. ;) I like to read! Of course I do or I wouldn't be here...Silly Steph.
Ok now I'm talking to myself....Just rambling. Ahem.
I love watching movies. I like girls who can kick but e.g. Uma Thurman in Kill Bill.
I also like Anime. If you haven't seen Ghost in the Shell I HIGHLY recommend it.
I regard it as one of the best animes ever made. It totally messes with your head! But the action is pretty amazing.
I'm also a gamer. I love my Playstation3.
So if anyone happens to stumble across my page and you have a PS3 add me.
PSN: RebelMajesty
I guess I should introduce why I'm rather obsessed with the Twilight Saga. I too like most turned twilight fans either saw the movie/heard about it and went ...Wow what is this crap. Well yeah talk about 180s. I absolutely adore the series now. It actually was what got me back into reading again. It was my brother who bought all the books one day.
It was just sitting on his desk...gathering dust. So I was like... *evil eyes* Let's do this! lol
So I was determined to see what all this hype was about. I think I must have read all the books in the space of 4 days. Lol.
It really is such a unique series. I love that about Stephenie Meyer. She has made up her own type/race of Vampire and the series just gets more and more intriguing.
Team Jacob or Team Edward?Edit
I must tell you now. I'm Team Jacob. *hides under covers*
To tell you the truth I like Edward and Jacob equally. I just thought Jacob needed some love. Kids been through a hell of a lot. He just needs a hug every now and then alrighty? Haha. Well I guess he has Renesmee for that now. :P Lucky girl.
My favorite pagesEdit
Favourite VampireEdit
Alice. She's amazing. I love how close her relationship is with Edward. She really is like his biological sister. She makes me laugh cuz she does whatever she wants haha. She's stylish. I mean who wouldn't want a best friend like Alice?
Plus she has like..the best gift ever. lol
Team Alice all the way. :)