Seen Eclipse 3 times now. Now i say all the words before people even speak!! lol. Luna - You saw it yet??? (L)
Jocelyn Gilchrist
Biographical information
Born

31 July 1896

Changed

In the process of Awakening

Created by

Myself

Died

---

Physical description
Species

Human Vampire

Gender

Female

Height

5'4

Hair color

Brown

Eye color

Golden

Skin color

A slight sparkle

Family information
Family members

Luna/Bella my bestest - Closest Sister in my coven!!! All my coven members are part of for Kelty coven!! Wanna join?

Special characteristics
Abilities

Basic Vampire abilities.

Special abilities

Premonition (Clairvoyance)( When my mind wonders my hand draws and the thing that i have drawn happens)

Affiliation
Occupation

Student

Loyalty

My coven My family
Have fun on my page!
Edit
Huge shout out to my best and closest online sister -Luna/Bella she is irriplaceable!!
(talk)
You say, I say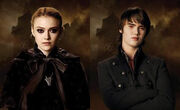 I say vampire,You say werewolf,
I say Volvo, You say Rabbit,
I say Robert,You say Taylor,
I say "HOT!", You say "NOT!",
I say hard n cold, You say warm n fuzzy,
I say Mutt!, You say Sparkling freak!,
I say 110,You say 16,
I say "Your Weird!", You say "Your Gross!"! <--- Soooo true!!! Luvvvvv this site to bits!
Awards ( wanna get them ALL!)
Edit